Invest your tax refund in your home to improve your quality of life.
Spring has arrived in the Tri-state area and tax season is in full swing. If you don't think so, just ask a local CPA who is probably working 13-hour days and weekends right now. Many local residents are either getting their tax information together because of the looming April 15 deadline or are waiting for that refund to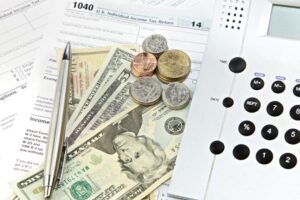 arrive. No matter the case, now is the time to start thinking about a wise way to invest the cash.
One wise choice is upgrading your house to make it a better place to live. The home improvement and renovation specialists at Mt. Tabor Builders in Clear Spring, MD would love to talk with you about remodeling your home or adding a major addition. These building experts have decades of experience finishing basements and other rooms into home offices, man caves and in-law suites.
If you're not in need of a big construction project, you may consider replacement windows; new exterior doors; replacing a leaky roof; or possibly adding a deck or patio. Not only will these repairs and upgrades improve the look of your home, many will make it more energy-efficient and secure. The new doors and windows will pay for themselves within a few years, as utility bills decrease. Just think about cutting the heating and cooling bills dramatically before the summer heat arrives.
Mt. Tabor uses high-quality building products to ensure your project brings quality and value to your investment.
Recent Home Projects by Mt. Tabor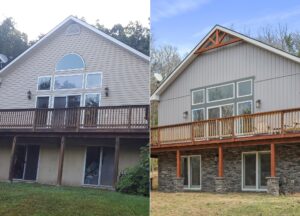 A Pennsylvania home is the latest renovation project completed by the professionals at Mt. Tabor. The home was transformed from an outdated dwelling perched on a plain concrete foundation to a modern property nestled in a wooded setting. The first major change most notice is the updated siding on the upper floor. The next improvement that stands out is stone veneer covering the nondescript concrete walls of the ground level. You can see pictures and read the whole story here.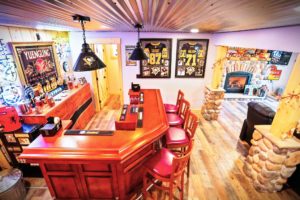 Another project featured on this website is that of an unfinished basement turned into a comfortable and stylish "shrine" to one man's favorite hockey team. The man cave is highlighted by wood floors and wood accents, a stone fireplace, a bar and plenty of Pittsburgh Penguin logos and memorabilia. Click on this link to read the blog post and see more pictures.
The Mt. Tabor Blog Page features many custom home and home improvement projects.
Contact Mt. Tabor About Your Building Project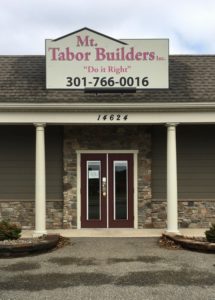 Click here to contact Mt. Tabor Builders to talk about your custom building project. The Clear Spring, MD office can also be reached by calling 301-766-7161. 
This link connects to Mt. Tabor's gallery of construction projects. The projects include custom homes, major additions, outdoor living spaces and complete renovations.