Expertise for All Phases of Custom Home Building
Our Building Expertise Makes Building a Pleasure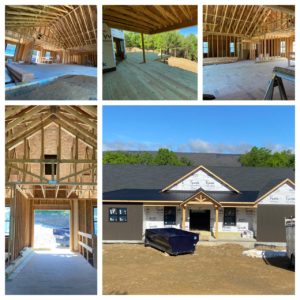 The professionals at Mt. Tabor Builders specialize in the exceptional at every stage of the building process. With decades of experience, our expertise helps guide the process — and the client — to a great outcome. Part of that outcome is an enjoyable, stress-free process of building your dream home.
We start with a client meeting to discuss the hopes and dreams of what will be in the dream home. We listen to every detail, look at the budget, and then advise based on our decades of experience. Then, we can draw the plans and revise those plans until it reflects the client's vision.
As we take care of the building permits, we work in partnership with the client on the building materials. We know the best roofing, windows, doors, siding, etc… for the best pricing. This ensures that each client gets the value.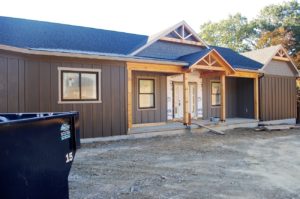 We meet regularly with the client to make sure they understand exactly how the project is progressing. This gives opportunity to see if any changes need to be considered at each phase. We know that things can change during during the building of a home, and we want to be flexible and understanding.
In short, our company is able to ensure that your custom-built dream house or renovation project is delivered on time. Not only is in on time, it's within budget, and at a level of craftsmanship unmatched in the greater Hagerstown, MD area. We work throughout the Tri-state area of Maryland, West Virginia and Pennsylvania.
An Easy, Clean Building Experience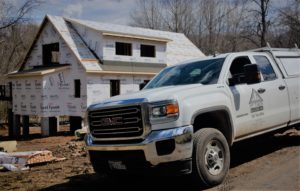 Creating the custom home of your dreams requires a tremendous amount of forethought and effort. Architectural design, engineering, permitting, selections, and construction that results in an exceptional home can be overwhelming for most people. The professionals at Mt. Tabor are ready to handle any project from beginning to end.
With over 30 years of hands-on experience, we have successfully worked with many clients from the conception stage to reality. Whether you like a traditional-style home or the more rugged design of a log or timber-frame dwelling, we can help you work through all the details and make the process as smooth as possible. Here are some comments from those we have helped turn their dream into the reality of a dream home.
Our professionals also take care of the job site. This means the neighbors will be happy — and safe –during the building season.
Our Custom Home Portfolio
Click on this link to see images of our custom homes, additions and major renovations throughout the Tri-state area. We can also build detached garages.
Mt. Tabor Builders is a custom builder of mountain homes in Berkeley Springs, WV and the surrounding area. Read our blog on mountain homes and see our gallery of images. We also do major renovations, such as creating home offices, in-law suites, etc…
Our Clients Say...
From Fred G. Williams
This letter is written as a recommendation for Mt.Tabor Builders.
I contracted with Mr.Willie Eby, president of Mt.Tabor Builders for the construction of my new home in April 2007. This home was built in Frederick, Maryland, and was completed in December 2007. Mt.Tabor Builders was extremely reliable and efficient. At no time was it necessary for me to prod them or call them because they were not timely. Their men were always pleasant to work with, neat in appearance and were excellent mechanics.
Mt. Tabor did all the framing, trim work inside and out, roofing, installation of all windows and doors and hardware. They also have close association with a number of subcontractors that can do all phases of construction and will contract to do a "turn key" project if requested to do so. I designed this home, and am a retired commercial builder and developer and because of this background have had many years of contact with the construction industry. Mt. Tabor provided me with the products above mentioned with diligence and satisfaction. My design was a very complex one as far as framing was concerned and was handled expeditiously by Mr. Eby's men without any problem.
I highly recommend this firm for any type of construction, be it residential or commercial. They are pleasant to deal with and their quotations for the work to be performed are detailed and understandable. Their follow through with the necessary paper work and billings during construction are also in order and easily understood.
Please feel free to call me if you need to discuss Mt.Tabors' qualifications.