Mt. Tabor Builders
Address
14624 National Pike
Clear Spring, MD 21722
Telephone
301-766-7161
Fax:  301-766-7163
Email Us
If you prefer, let us know how we can assist you using our online form, below.
Looking for a Custom Home or Vacation Home in the Mountains?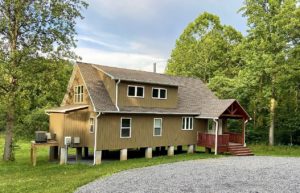 We specialize in building custom homes and second homes — or mountain homes — which you can read about in this blog post. We also do major renovations, such as creating home offices, in-law suites, etc…Our building experts can also create more space in your current house, with a major addition.
Click here to read our our blog posts about our work (mountain home blog post). You can click here to see our Portfolio of construction projects for ideas for your future home. We display pictures of our homes in our Clear Spring office. You're welcome to stop by during normal business, Monday – Thursday. Friday is by appointment only.
Mt. Tabor Builders Handles All Types of Home Improvement Projects
Home improvement projects are what the Mt. Tabor building professionals do when not building custom homes. They are the experts at remodeling kitchens and bathrooms, or any other part of your home. They are also specialize in building additions and, finishing basements and bonus rooms. You can also count on them to do expert roof replacements and installing replacement windows.
Home improvements are not just under the main roof. Decks, patio and luxury outdoor living spaces are well within their capability. Read our latest blog on Mt. Tabor's home improvement work. Garages — attached and free-standing — also provide additional space and add value to a property.
Contact us here to discuss your home improvement project.
Our Clients Say...
From Bill Moroney
After spending three years contemplating a renovation to my home and with my budget in mind, I attended the Hagerstown Home Show last winter with a friend of mine who has renovated numerous properties to get some ideas.
I happened to come across the booth for Mt. Tabor Builders and after talking to Royce Eby, made an appointment for him and his brother Willie to see my property and talk about my goals. Willie and Royce were on time and their manner of working with a client appealed to me. They listened to what my goals and ideas about creating a relatively maintenance free home. Willie and Royce presented drawings, made changes we wanted and thoroughly walked us through a contract and answered every question imaginable.
The resulting renovation is fantastic and the entire Mt. Tabor team including their employees and subcontractors were professional and very respectful of the timeline and property. I have never encountered a construction crew that cleans up after themselves.  At the end of each day, the work site was left organized and debris free with excess materials stacked for removal and trash cleaned up.
The end result is fantastic as you can see from the pictures. Willie, Royce and crew did an amazing job and have been great on the follow through.  The work is excellent and within the budget with no surprises. I would definitely use Mt. Tabor again for a future project.