Mt. Tabor's building experts turned this unfinished basement into a Pittsburgh Penguins-themed man can for the ultimate hockey fan.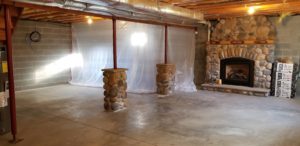 An unfinished basement can be like a blank canvas to an artist. The builder — or artist — comes with some ideas and in this case with Mt. Tabor, plenty of expertise. The owner of this Washington County, MD house had a vision even before choosing the Clear Spring-based builder for the job. The project features plenty of natural wood and hockey memorabilia. But not just any hockey memorabilia, it's specifically that of the black and yellow-glad Pittsburgh Penguins.
The project is built around a stone fireplace that anchors one end of the rectangular space. The room's wood floors and columns, and stone accents connect the greater space to the fireplace. The bar area's metal ceiling and framed hockey jersey are directly across from the large-screen television, so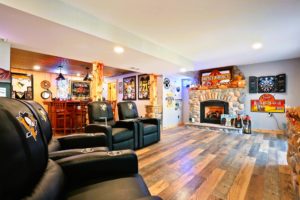 the games can be viewed from nearly every part of the room. Commercial breaks and Zamboni laps between periods even go by more quickly with full-size video games.
Contact Mt. Tabor for Your Basement Project, Addition or Custom Home Project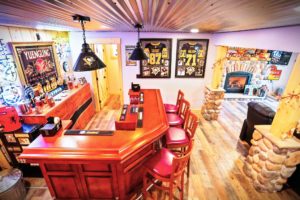 Do you want your own man cave or a finished basement for the whole family? The Mt. Tabor team welcomes the opportunity to meet and discuss your project.
The team has decades of experience finishing spaces, building major additions, designing and building outdoor living spaces, and building custom homes.  You can click on these links to go to the company's custom home, major addition and outdoor living space photo galleries.
Contact the Mt. Tabor office today to schedule a meeting to discuss your building project. You can also connect by calling 301-766-7161 or emailing info@mttaborbuilders.com.