Building Lots – Great Locations for Your Custom Home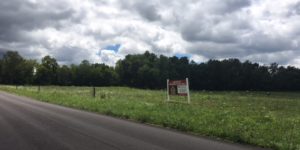 Are you thinking of building your dream home in the Tri-state area of Maryland, Pennsylvania and West Virginia? Are you looking for a great location in the area to build that dream home? If so, contact Mt. Tabor Builders' office and a representative can help with your search and discuss using Mt. Tabor for the building project. The company's expert builders have decades of experience building traditional, log and timber frame homes in the area.
Visit Mt. Tabor's portfolio by clicking here to see the different style homes we've built.
In addition to the lots listed on our site, our team is familiar with many parcels and tracts of land available for sale throughout the Tri-state area. They will do their very best to match the type of lot you are envisioning with local sellers.
After finding the right parcel of land, the professionals at Mt. Tabor can guide you from concept to design to construction of your new custom home, no matter what your budget may be.
Our Building Lot Listings
Mt. Tabor's latest lot listings all are perfect for a custom built home in the Tri-State area. To view the details of each, click on these links for VanLear in Williamsport, MD; lots in Clear Spring, MD; and on Ideal Circle in Hagerstown, MD.
We enjoy helping people find that piece of land and making a plan to use it for their next home. Contact Us today to talk about new, exciting ideas for your next custom home!
Let's Design Your Dream Together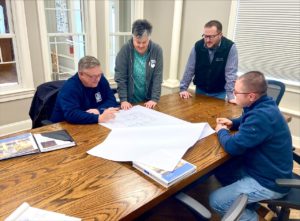 Lead designer Royce Eby and Willie Eby (Mt. Tabor founder and president) look forward to meeting and brainstorming with clients to start designing a custom dream into a custom dream home.
The professional designers and builders at Mt Tabor have designed many variations of traditional American homes, log houses, and timber frame homes which give the rugged feel found in log homes, but with the ability to meet today's more-stringent energy codes.
To find out more about our in-house architectural design services, contact us today to schedule a meeting to discuss your dream home!
In addition to architectural design, the expert builders at Mt. Tabor in Clear Spring, MD also builds major additions and outdoor living spaces. We also design and finish bonus rooms, basements and create in-law suites.
Looking for a Custom Home or Vacation Home in the Mountains?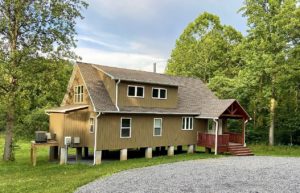 We specialize in building custom homes and second homes — or mountain homes — which you can read about in this blog post. We also do major renovations, such as creating home offices, in-law suites, etc…Our building experts can also create more space in your current house, with a major addition.
Click here to read our our blog posts about our work (mountain home blog post). You can click here to see our Portfolio of construction projects for ideas for your future home. We display pictures of our homes in our Clear Spring office. You're welcome to stop by during normal business, Monday – Thursday. Friday is by appointment only.
Mt. Tabor Builders Handles All Types of Home Improvement Projects
Home improvement projects are what the Mt. Tabor building professionals do when not building custom homes. They are the experts at remodeling kitchens and bathrooms, or any other part of your home. They are also specialize in building additions and, finishing basements and bonus rooms. You can also count on them to do expert roof replacements and installing replacement windows.
Home improvements are not just under the main roof. Decks, patio and luxury outdoor living spaces are well within their capability. Read our latest blog on Mt. Tabor's home improvement work. Garages — attached and free-standing — also provide additional space and add value to a property.
Contact us here to discuss your home improvement project.
Our Clients Say...
Beth B. of Great Cacapon, WV
Mt. Tabor was our fifth builder that we sat down with to plan our dream retirement home. The other four builders we walked away from did not provide the comprehensive home builder service with the confidence of what we wanted and needed.  When obtaining quotes from Well Drilling and Water treatment companies, they suggested Mt. Tabor Builders. 
Upon the initial meeting with Willie Eby and Royce Eby, we knew we finally found a builder that could visualize our dream home as we wanted built and not the cookie cutter home that was comfortable and quick to build for the builder. Once they saw the location, I think Willie was just as excited to build the home as we were to live there.  This was not just another house to build, they wanted to build our home. This emotional "buy in" was very important to us. Willie and his team sincerely wanted to provide us with a home that could be enjoyed by our entire family for years to come. I could see the expressions on their faces when talking about having large family dinners and Holiday gatherings appealed to them. They were building a family home for lasting memories. 
Nice guys are nice guys, but when you are trusting someone with your life savings, you check them out first. Couldn't find anything derogatory or negative. Believe me, I looked. We also spoke with other service providers, and they spoke highly and respectfully of Mt. Tabor Builders and their business practices. 
Then it came down to the most important reasons we chose Mt. Tabor Builders, trust and accountability. Once we decided on the plans within a very short time we sat down with Willie and Royce. Every line item of the contract was reviewed, discussed, clarified and agreed upon. This was the first builder that provided this level of transparency. Also, what was discussed were the sub-contractors to be used and Willie's reassurance the work would be completed to his level of standards. Even though we were not in Maryland, he built the home to Maryland code and specs (which were not required at the location site). 
At this point we were introduced to Shawn, the foreman on the project. Shawn was assigned to us, not just the project to build the home. He was the only foreman (go to guy) from day one until completion. Shawn is approachable, open and easy to discuss concerns. We started building the same time the cost and shortages hit due to COVID. Not an easy time for builders or home owners. Shawn's calm, patient approach to just about any situation was reassuring and calming.   
The framing crew worked relentlessly and were meticulous to build a home withstanding of the challenging natural elements. Alex and Cameron (Willie's sons) along with Gary were respectful, polite and are conscientious craftsman of their trade. They felt more like our grandsons then framers. 
The stone mason, Everett Eby has provided us a stone fireplace so beautiful everyone has their picture taken by it. It is one of the main focal points of the home.  The outside stone veneer has strangers stopping by to comment on the beauty. Everett is an artesian of stone placement. 
The other trades; Trim Carpenters (Neal and Gary), Electrical (Anytime Electric, Chad), plumbing (Wes), HVAC, ceramic tile, and wood flooring, and excavators (Jarryd Keplinger) worked with the same level of workmanship and dedication to the project. 
Building and working with a company for over nine months to build your home can be stressful, financially challenging especially during challenging times of COVID. Sometimes the end result is not positive. Our end result was a beautiful home, and the forever friendship of the Mt. Tabor family.
If you are looking for a home builder, or home improvement provider that can deliver superb craftmanship, accompanied by integrity, honesty and high standard of work ethics then don't waste your time on the other four builders, call Mt. Tabor and talk to Willie Eby. They do it right.