Mt. Tabor Builders brings superior products and expert installation to every re-roofing job.
Most homeowners don't think about their roof until there is an issue. By then, you're like a person drowning who will take a life-ring from anyone who hears your screams for help. That's not a good position to be in when you need to spend wisely on a costly home improvement project.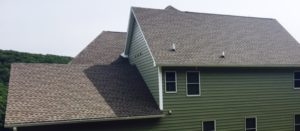 Before that happens, be proactive. You should inspect your roof on a regular basis, especially if it is more than 18 years old or if you see evidence that your shingles are in decline. That evidence includes shingles that are curled up, splitting, blistering or are missing. (NOTE: Use binoculars to inspect from the ground). Good products that are installed correctly will often last beyond two decades. However, many homes built in the Tri-state area were constructed by builders seeking to maximize profit. Sometimes those savings mean inferior products or other shortcuts that lead to issues.
A new roof installed by Mt. Tabor's professionals will be done correctly, because they believe in doing it right for the best value for the customer. They also believe in using superior products that they trust to last. They also believe in training their installers to understand the product and the specs for installing those products correctly.
GAF Makes Superior Roofing Materials
There are two things to consider when your home needs a roof replacement. The first is the quality of the roofing product. The second is the quality of the company's ability to install that product. It should be installed the way the manufacturer intended.
What are the benefits of GAF roofing?
A GAF roof is known for its exceptional durability and longevity, backed by the GAF Lifetime Shingle Warranty. The product's highly reflective finish improves a home's energy efficiency. GAF's HD shingles use cool roof technology to deflect the sun's rays. This protects your home from excessive heat,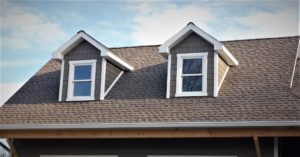 because a cooler attic is a cooler home.
The GAF StainGuard protection keeps algae — which can breakdown shingles —  from taking hold. The roofing materials come in a wide range of styles and colors to fit any architectural style and personal taste.
How long do GAF shingles really last?
The 50-year shingles have shown to hold up nearly the five decades the company boasts. Independent studies show that shortened GAF shingle lifespans were sometimes caused by improper installation and poor maintenance or negligence by the homeowners. GAF offers several warranties and has a transfer option for those selling to a new owner.
BONUS QUESTION: Can you write off a new roof on your taxes?
When you make a home improvement, such as installing central air conditioning or replacing the roof, you can't deduct the cost in the year you spend the money. However, those expenses may help you reduce your taxes in the year you sell your house. (NOTE: Always check with a tax professional to make sure the current tax laws allow for such savings.)
Contact Mt. Tabor About Your New Roof Needs or Other Building Project
Click here to contact Mt. Tabor's Clear Spring, MD office today to schedule a meeting to discuss your home improvement need. You can also connect to a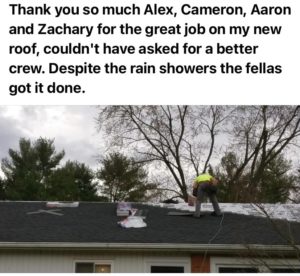 Mt. Tabor representative by calling 301-766-7161 or emailing info@mttaborbuilders.com.
The Mt. Tabor team has decades of experience finishing spaces, building major additions, designing and building outdoor living spaces, and building custom homes.  You can click on these links to go to the company's custom home, major addition and outdoor living space photo galleries.
"We still love our beautiful home. This is because of your excellent work, your faithful work ethic, and your patience! These attributes made our building experience great." – J. Unger, Martinsburg, WV