Whole-house Home Renovation is Sometimes the Best, Most Cost Efficient Alternative to Building a New Home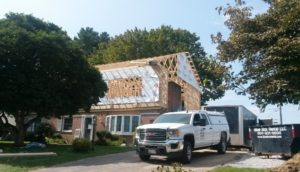 In the words of custom home builder Willie Eby, "Right now you can rehab more space than you can build." Eby, owner of Mt. Tabor Builders in Clear Spring, is referring to the per-square-foot cost of changing your living space from "old, outdated home" to "updated dream home."
The recent increase in builder costs is partly due to the uptick in demand for subcontractors. Renovation costs can be kept lower by builders who employ professionals who do most of the work on a project.
The Latest Project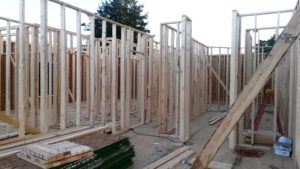 Major renovation requests range from overhauling several rooms to changing entire layouts to adding huge additions. A recently-completed project by Eby and his team turned an older one-level rancher into a two-story home with a large garage and deck in Hagerstown's North End. Designer Royce Eby said the project doubled the space and created some unusual challenges.
"We had to be careful not to do any damage to the first floor and we had to get the project under roof in two days because of all the rain we had this summer."
The new second floor includes a large master suite, plus another bedroom, bath and office space.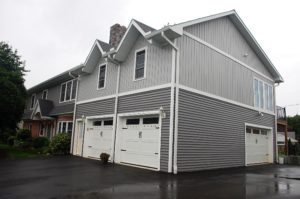 Another of Mt. Tabor's total rehab projects in the last year involved special circumstances surrounding the owners. The family gained control of the grandmother's house and naturally had a deep sentimental connection to the property. But, they still wanted to make changes to the interior to make the home their own space, while maintaining original characteristics of the dwelling.
According to information gathered by reps from a local building materials supplier, the major rehab trend will continue at a double-digit pace for at least the next few years. The reps believe that complete kitchen and bath overhauls will lead the way, with common space living areas being the focus of updating and expanding. These areas often get updated and connected to major additions to provide more square footage to gathering areas.
Another area of renovation is in replacement windows and exterior doors. Houses built in housing boom have windows and doors that are now failing to do an adequate job of keeping heat, cold and noise outside. Better-quality replacement windows and doors are now available. These provide a functional and aesthetic upgrade, adding "curb appeal."
Contact Us
Contact us if you are thinking of undertaking a whole-house renovation in the next year. You can call us at our Clear Spring office at 301-766-7161 or contact us here. 
The professionals at Mt. Tabor Builders, Inc. build homes, custom building projects and outdoor living spaces throughout the Tri-State area. This area includes Hagerstown, Clear Spring, Hancock, Boonsboro, Smithsburg and Frederick County in MD. Click on this link to see our gallery of projects.
Our sister company — MTB Windows & More — specializes in home improvements and home repair projects, including roofing, replacement window, and exterior door replacements. If you would like to look at the company website, click here.