Renovations and additions can be a better alternative to selling, buying and moving.
Most people sell and move because their current home no longer meets the needs of their current lifestyle. That may be because their family has expanded or possibly contracted, because children have "left the next." The thought of selling, packing up and then moving can be an idea that leaves you with a queasy feeling. Especially if you're in a home that has a basement, attic and/or garage that is stuffed full of of everything purchased over the last decade or so. Just looking at the clutter can cause you — and many others — to shut down. But before you give in and give up, consider some other options.
A renovation project may be the answer, because you get to stay put and it's often more cost-efficient than "upgrading" or even building in this current environment.
Mt. Tabor Builders Can Handle Small and Larger Building Projects
What is your most pressing need that your current home doesn't satisfy? Do you need more space? Do you need a home office, because one or several family members are now working remotely? Has your family grown to the point of needing more living space? Your home may have the floor space, but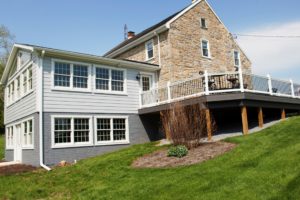 you can't see it because of walls and lack of imagination. But don't feel badly, as it often takes professionals — like the Mt. Tabor designers — to envision it. The taking out or moving of some walls could make the difference in having what you need under the same roof.
Also, consider your unfinished space. The Mt. Tabor building pros have experience finishing off basements and attics into living space. Basements can provide that second living room or even an extra bedroom, which is perfect for older children. Basements can also be finished into a complete living space, for an in-law suite or even a rental "apartment."
If your home does need an addition, Mt. Tabor can design and build it. Not only will it be exactly what you need, the building experts will make sure it ties seamlessly into the existing structure. Even outdoor living spaces. Decks and patios can add to your home's value and your quality of life.
Such projects — adding indoor and outdoor living space — can help you limit clutter and maximize your investment. These home improvements also add value, which can make a big difference in the value. Your home is an investment and should be considered a great asset for resale in the future.
Major Home Renovations by Mt. Tabor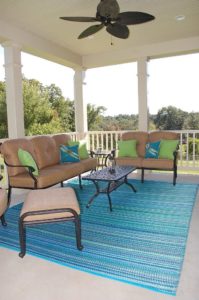 Major renovation requests range from overhauling several rooms to changing entire layouts to adding additions. Mt. Tabor has even built garages that include extra storage and living space. One project in Hagerstown's north end included a covered patio with a utility storage area underneath.
Client Testimonial
"I was pleasantly surprised by how well Mt Tabor communicated throughout the entire project and how well the finished product looked original to the construction of the house
"I had a vision for what I wanted and Mt Tabor absolutely made it come true.  Our project was not just a conventional porch we also had a room (shed) built underneath the porch. We feel like we have more living space about eight months out of the year, more storage space and less maintenance." Glenn M, Hagerstown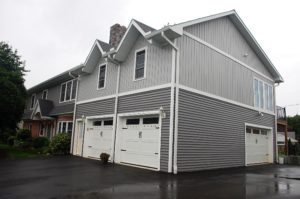 Another project by Mt. Tabor President Willie Eby and his team turned an older, one-level rancher into a two-story home with a large garage and elevated deck in Hagerstown's North End. Mt. Tabor Lead Designer Royce Eby said the project doubled the home's space, but created some unusual challenges for the team.
"We had to be careful not to do any damage to the first floor and we had to get the project under roof in two days," said Royce Eby of the project that turned a rancher into a two-story contemporary. The new second story added a large master suite, plus another bedroom, bath and a home office.
Another of Mt. Tabor's total rehab projects in the last year involved special circumstances surrounding the owners. The family gained control of the grandmother's house and naturally had a deep sentimental connection to the property. But, they still wanted to make changes to the interior to make the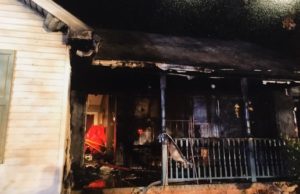 home their own space, while maintaining original characteristics of the dwelling.
Mt. Tabor has even helped families come back from the brink of disaster. Click on this link to see photos of a whole house rehab project after a devastating fire in Falling Waters, WV.
Another whole house renovation involved this log home in Western Maryland.
Contact Us for Renovation Projects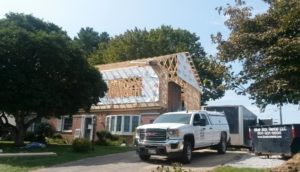 Contact us if your plan is to renovate your house in the next year. You can call our Clear Spring office at 301-766-7161 or contact us here to schedule a meeting.
The professional builders at Mt. Tabor work throughout the Western Maryland area and nearby West Virginia. This area includes Hagerstown, Clear Spring, Hancock, Boonsboro, Smithsburg and Frederick County in MD. We even build mountain homes and vacation houses, just west of our office.
Click on this link to see our gallery of projects.