Lose weight? Eat healthier? Read the Bible? Spend more time with friends? Build a new home? Build an addition?Are these some of your New Year's resolutions for 2018?
Okay, maybe right now you're too focused on getting the gifts purchased; grocery list made; and decorations sorted and
hung before December 24th. But, if the last item in the aforementioned list is a "non-negotiable," we recommend you start envisioning now what that might look like once the decorations are down and put away.
Do you want to build a home in the coming year? If so, there are some great styles being built that fit into the Tri-state area landscape nicely. Mt. Tabor Builders has a design and build team with experience in constructing farm houses; colonials; cape cods; ranchers; log homes; and just about anything you can find on Pinterest.
And while it is great to research plans, pictures and materials – including a list of priorities you want in your new home or addition – don't spend too much time doing so before meeting with a contractor, warns Royce Eby.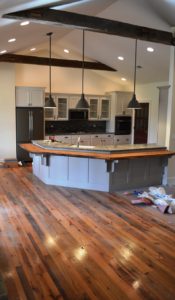 "When you search online, there is so much information and some of it is just not helpful," says Eby, lead designer for the Clear Spring, MD-based Mt. Tabor.
He mentioned specific information regarding insulation and solar power. He recommends doing "your homework," but then getting the expertise of a professional builder as to how those details fit or don't fit into the building plans.
"Some of the stuff people find would just be a waste of money if we didn't advise them not to invest in them in their home," he added, speaking of certain solar applications where the equipment would break down before any real savings was realized.
Many of these same principals apply to someone adding a major addition or doing a whole house renovation. These types of projects — a great choice if you like your location, but want to upgrade your living space — sometimes have more limitations. However getting a builder's perspective can often open up ideas the homeowner could not imagine.
Eby's ability to take a homeowner's ideas and desires and transform them into renderings makes it easy to see the  finished project. This could be with opening up an enclosed space or adding an entire wing for more square footage.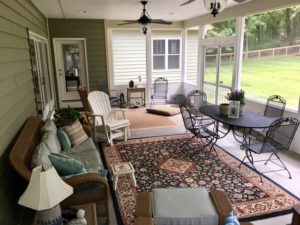 This was the case for Ida Isminger of Falling Waters, WV. When her home burned, she decided to have Mt. Tabor do a complete renovation, including opening up the floor plan from what had been a rather chopped-up design in the original rancher.
To find out more about Mt. Tabor Builders Inc. or to ask questions about building in 2018, contact the office here or call the Clear Spring office at 301-766-7161 to schedule a meeting.