The Mt. Tabor Builders staff has been busy with projects in 2023.
This post highlights two building projects completed this calendar year. The team continues to design and build custom homes and, when a client wants to stay put but have their dream home, do whole-house renovations. The projects below are in the great state of West Virginia, not far from Mt. Tabor's Clear Spring, MD office. Connect with a company representative soon if you want to discuss your building project. To schedule a meeting, click here or call 301.766.7161, or email info@mttaborbuilders.com.
Morgan County Custom Home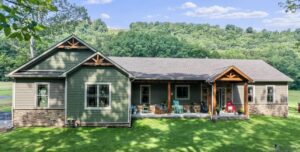 The furthest project from Mt. Tabor's headquarters is a custom home in Morgan County, WV. The single-level, timber frame home may not be a grand sight from the road, but a close look reveals many spectacular qualities.
"This is a home, not a house," said Rick of Mt. Tabor. "It's so comfortable just walking in the door."
The exterior features hardie board plank siding and natural wood accents. The interior is built around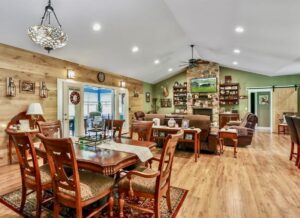 the great room, which includes a dining area and a comfortable living room. More natural wood ties the interior to the exterior. The room will be very comfortable in the winter with a roaring fire in the beautiful stone fireplace. Off that room is a four-seasons room with a hot tub and a dedicated ventilation system to keep it comfortable.
The master suite is made complete with a master bath with a free-standing tub and large shower with custom tile. The owners had this to say a few months ago as the project was entering the final stage.
"We were blessed to find an outstanding contractor…. We couldn't have asked for a better contractor or foreman, who have also become our good friends. It's truly been a great experience building with these guys."
Total Remodel Building Project on the Potomac River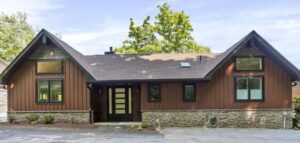 The owner of a West Virginia home with Potomac River access challenged the Mt. Tabor staff with a complete renovation. The owner wanted a total makeover and was so happy, he wrote the longest testimonial the company has ever received (below). The home now has new siding, windows, roofing materials and deck. The interior was completely gutted to make way for the beautiful kitchen, wine room and a master suite addition.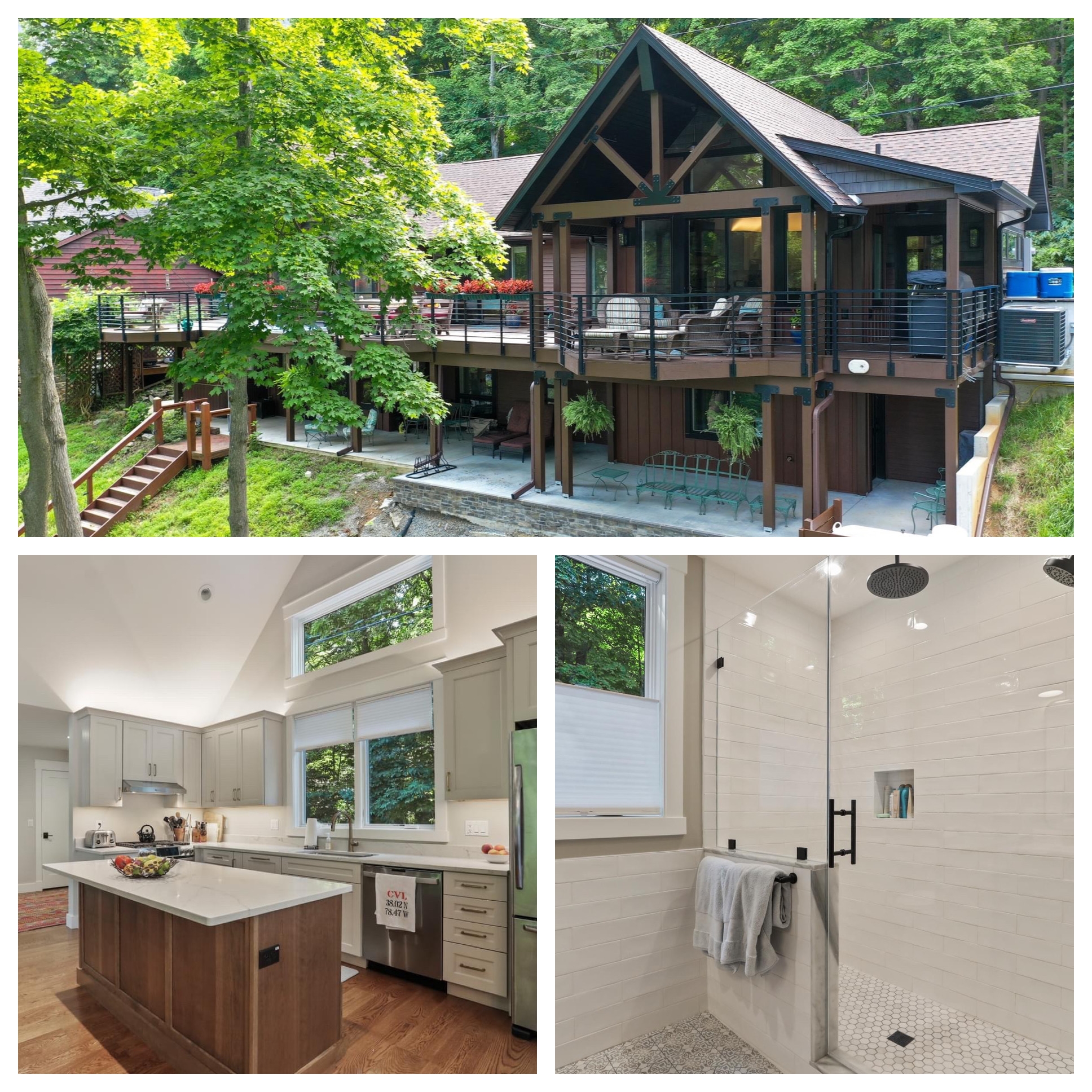 The addition doubled the square footage of the original 1,400 sq. ft. Potomac River-front cabin. The owner asked the Mt. Tabor staff to make sure the new portion matched the existing structure exactly. The testimonial below attests to how well the Clear Spring-based builder did to fulfill that request.
Cabin Remodel Testimonial
"Thanks to the craftsmanship, dedication and focus of Willie Eby and the Mt. Tabor team, my wife and I were able to transform a 1980's riverfront cabin into a truly modern riverfront home.
"One of our highest priorities was ensuring that at the end of the project, our home did not look like an 'old' cabin with a 'new' addition. We wanted a finished product that, to anyone unfamiliar with our old home, it looked like new construction throughout. Frankly, the final product has exceeded our very high expectations in every respect. In fact, our friends who have seen the final product swear that we demolished the old house and built new.
"Last but by no means least, we were looking for a construction partner that we believed had high integrity, willing to communicate honestly and directly and honor their commitments throughout what we knew would be a sometimes-stressful process. Willie Eby and is team – Mt. Tabor Builders – are, in our humble opinions, the very definition of high-integrity building professionals." Click here to read Brian O.'s entire Mt. Tabor testimonial.