Mt. Tabor Builders latest project is a dream home with more than 10,000 square feet under the roof.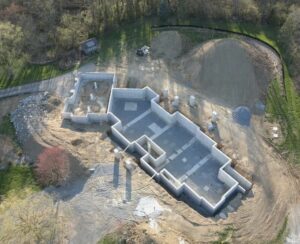 Mt. Tabor has the capability to design and build large and smaller homes. In this case, Clear Spring, MD-based company is building a large custom home. This is the first part of a series of posts documenting the year-long building project. The large home is being built on a 30-acre lot in Washington County, west of Hagerstown.
Stay tuned for more details in future posts. Readers can follow the incremental progress, with many more photos, on the Mt. Tabor Facebook page.
Recent Custom Home Projects by Mt. Tabor Builders
Potomac River Farm House-style Forever Home
The homeowners wanted plenty of interior space and direct access to the iconic Potomac River, when they decided on Mt. Tabor as their builder of choice.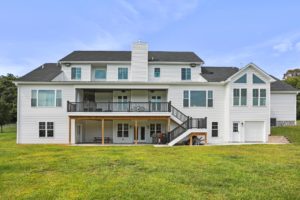 The five-bedroom, four-bath dream home is a short walk to the water. The elaborate deck offers a perfect vantage point when the family just wants to enjoy the view.
The Mt. Tabor representative had this to say about how the custom home project came to be.
"Our client came to us with a dream to retire and build their forever home away from the hustle and bustle of the big city. Royce (Eby) of 

Eby's Drafting and Design Service

 (Mt. Tabor's in-house design company) put their ideas on paper and we brought it to life."
West Virginia Modern Cape Cod
Another retired couple came to Mt. Tabor wanting to build a modern Cape Cod in the beautiful West Virginia mountains. The home's original design was created by Architectural Designs. The exact plan can be seen at this link.
It features timber frame and stone work on the stylish front porch that graces the entire front of the house. The back deck stretches the length of the home, with a million dollar view of the peaks and valleys. The Great Cacapon area — close to Berkeley Springs — offered the views and Mt. Tabor brought the building expertise.
Contact Mt. Tabor About Your Dream Home or Building Project
Mt. Tabor's staff members want to meet with you to discuss your custom dream home plan or other building project. Connect with a company representative soon if you want to get started in 2023. Click here, call 301.766.7161, or email info@mttaborbuilders.com to schedule a meeting.
The Mt. Tabor building experts have decades of experience building custom homes, finishing basements and other rooms into home offices, man caves and in-law suites. They also do smaller projects like replacement windows; new exterior doors; replacing a leaky roof; or possibly adding a deck or patio. Their expertise guarantees your project — whether large or small — will be done right.
Mt. Tabor Builders Client Testimonials
"From the first meeting, we had the idea, but they guided us into exactly what we wanted. They took what we had and made some suggestions and adapted some things that enveloped our ideas. All around from start to finish, it was an excellent experience." – Anne Marie D.
"I love my new kitchen and the work you have done. The more I use it, now that I'm settled in, the more I really like it, as does everyone who has come up to see it." – Linda D.