Client testimonials are often the best way to measure the success of each project. Does the clients words match the expectations laid out in the initial meetings?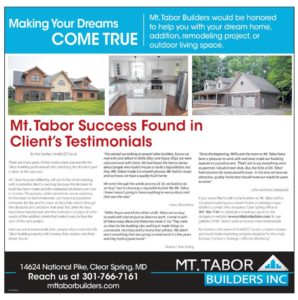 There are many parts of the construction process the Mt. Tabor building professionals find satisfying. But the best part is often at the very end.
Mt. Tabor founder Willie Eby will admit the initial meeting with a potential client is exciting because the decision to build has been made and the realization of dreams are now in motion. The process, while sometimes nerve-wracking for the soon-to-be homeowner, can have many positive moments for Eby and his team as they help clients through the obstacles and decisions that arise. But, after the keys have been handed over and the furniture is in place, it is the words of the satisfied clients that make it easy to face the start of the next project.
Here are some testimonials from people who trusted the Mt. Tabor building experts with turning their dreams into their dream home.
"We started out talking to several other builders, but as we met with and talked to Willie (Eby) and Royce (Eby), we were sold and went with them. We had heard the horror stories about people who build a house or build a big addition, but they (Mt. Tabor) made it a smooth process. We had no issues and we know we have a quality-built home.
We went through the whole process of, 'do we build or do we buy?' but in choosing a reputable builder like Mt. Tabor, I knew I wasn't going to have anything to worry about and that was the case."    – Isaac, Boonsboro
"Willie, Royce and all the others at Mt. Tabor are so easy to work with and are just so down to earth. I came in with all these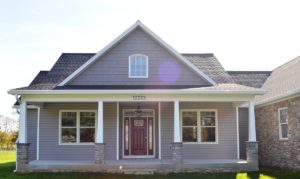 crazy ideas and there was never a 'no.' They were so close (to the building site) and it just made things so convenient. And they built a home that will last. We didn't want something that was going to need work in a few years and they built a great home."    – Burma, Clear Spring
"Since the beginning, Willie and the team at Mt. Tabor have been a pleasure to work with and have made our building experience a positive one. That's not to say everything went as planned. I doubt it ever does. But, the folks at Mt. Tabor had solutions for every possible issue. In the end, we have an attractive, quality home that should meet our needs for years to come."    – John and Irene, Keedysville
If you would like to talk to the builders at Mt. Tabor to find out about building your dream home or adding a major addition, call 301-766-7161 or contact us here to schedule a meeting. To read more testimonials, click here.