Mt. Tabor's building experts spend most of their time building custom homes, but will make time for your home improvement project.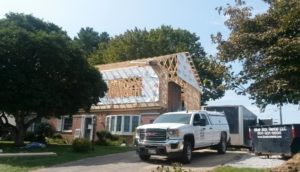 Mt. Tabor Builders uses a high-quality product line that combines quality, style and affordability for their home improvement projects. The professional installation teams are trained and certified to install Andersen Windows, Therma-Tru Entry Doors and GAF Roofing Systems. Mt. Tabor is known as one of the best custom home building companies in the greater Washington County area. They bring this same professionalism all of their work. This approach includes walking through each step of the process and staying in regular communication with the client. Finishing the job in a timely manner with the highest of standards being met is the last "nail in the project."
The mission of these trained professionals is complete customer satisfaction. The Mt. Tabor team members know the value of each customer. They show appreciation and respect by making sure they arrive on time and leave the job site clean and orderly at the end of each work day.
Replacement Windows by Andersen
The Mt. Tabor home improvement specialists use Andersen Windows for their replacement window projects. These windows are not your basic replacements, like those seen in "price-point ads" in the local newspaper. Andersen Windows provide an upgrade to the security and energy efficiency found in inexpensive replacement windows. This makes a huge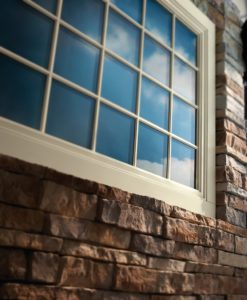 difference in electric bills during the highs of summer and the lows of winter. The energy savings will pay for the windows within a few years.
The Andersen Windows used by Mt. Tabor's crews come in a seemingly unlimited number of custom sizes and colors. These include wood stain pre-finishes, including pine, mahogany, oak, maple, etc…This allows the owner of an older home to make a near-perfect match to existing characteristics of the dwelling. This is especially important if the owners want to keep the look of the original windows and style of the home's period.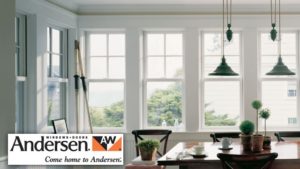 Andersen Windows are maintenance-free, or "worry-free." Andersen also has some of the best warranty options in the replacement window industry. This includes a transferable warranty for the next owner of the home. This type of warranty can be an excellent "upgrade note" on a seller's statement during a real estate transaction.
And unlike other general contractors, who use outside help (sub-contractors) to do window replacements, Mt. Tabor employs their own window replacement professionals. These home improvement experts are manufacturer-trained and certified on the installation of the products they recommend.
Exterior Door Upgrades
There are several good reasons to replace exterior doors and upgrading these important entry points to your home. Many exterior doors currently installed are succumbing to one or more aging issues. Do your doors shows signs of rust, rot, air infiltration or outdated design? Most people can live with outdated design, but not the other issues. Check your doors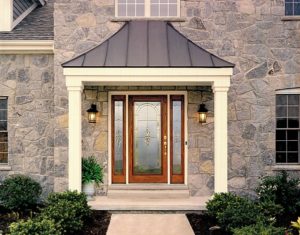 the next time the wind blows. Can you feel any air moving? If so, think about the hot air of summer and the cold air of winter coming in through those gaps.
New windows and new exterior doors could completely change your heating and cooling bill. It can also change the look of your home and add security.

Security Options & Lifetime Warranty
The professionals at Mt. Tabor install Therma-Tru Entry Doors, with the option of adding a three-point security system. The doors are constructed of rust- and dent-resistant fiberglass. The doors come ready to paint or stain to match or compliment your home's design features.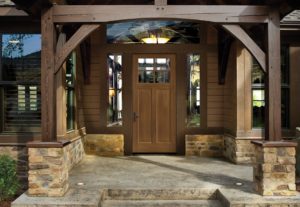 The doors also come with many glass options – including transoms. For those desiring a natural wood look, pre-finishes for oak, fir, mahogany and other wood grains are available. Mt. Tabor's designers can help you select the perfect door for each opening. Their years of design experience are important for the average costumer, because there is more to a door than meets the eye..
Therma-Tru, and Mt. Tabor, also back their doors with a lifetime warranty. For detailed information about the manufacturer's warranty, go to the Therma-Tru FAQ page for answers to these questions and more.
"I've been in this business for 25 years now and I have never had a problem with a Therma-Tru product," says a local rep with a building and remodeling products distributor in the Hagerstown, MD area.
Manufacturer-Trained Installers
Unlike some general contractors using sub-contractors, Mt. Tabor makes sure their own professionals do all installations. These pros are trained and certified on the installation of each product they recommend. These include Therma-Tru Exterior Doors and Andersen Windows. Knowing the product and the proper techniques to install those products, ensures the job will be done correctly. That means it will be installed correctly and work correctly. It also means it will last a long time, because of those same reasons.
Other Home Improvement Projects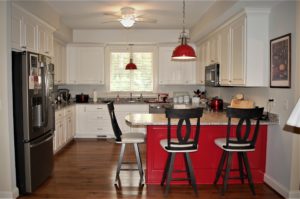 The Mt. Tabor home improvement experts are capable of handling just about any building projects you can imagine. Plus, being home builders, they can design and build any addition or finish any space. Imagine your unfinished basement as a living space of you or an apartment for a loved one or for a tenant. Imagine that bonus room as a home office. They also remodel kitchens, bathrooms and entire homes.
Since people often love their location, renovating the house can make more sense than moving. By renovating, you keep your location and a good bit of your equity. With increased home values, money is available to pay for such upgrades. Many of those upgrades can add more value to your investment.
Contact Mt. Tabor About Your Home Improvement Project
Mt. Tabor's staff members want to meet with you. Connect with a company representative soon if you want to complete a home improvement project in 2022. To schedule a meeting, click here or call the Clear Spring, MD office at 301.766.7161. You can also email info@mttaborbuilders.com.