Summer temperatures will soon give way to cooler evenings and thoughts of a mountain home for fall getaways.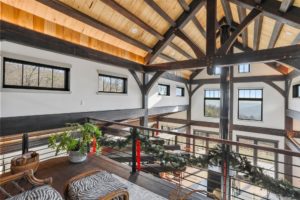 There's nothing quite like a walk in the mountains on a cool fall day with warm sun beaming down through the colorful leaves. It's the reason I-70 West is a parking lot on Friday evenings between September and the holiday season. We recommend getting your own mountain home and avoiding that craziness by traveling to the Blue Ridge, Allegheny and Shenandoah mountains at your leisure.
Some people may ask the question, "Why would I want to build a vacation home in the mountains?" The best answer to that question is because it's a short drive to the mountains those wanting — or needing — a change of pace. It's also a year-round option for getting away from the heat, enjoying the fall and winter sports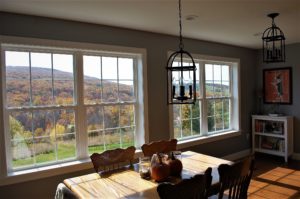 season.
"There are a lot of people from the city who want a place to vacation to or retire to," says Willie Eby, owner of Mt. Tabor Builders in Clear Spring, MD. "They contact us about designing and building a home in the mountains, usually around the Berkeley Springs area or just north of Hancock in Maryland. It's a beautiful area and seems further away from the city, than it actually is."
Timber Frame and Log Cabin Mountain Homes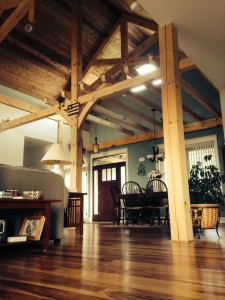 Mt. Tabor's building experts have constructed many homes in the nearby mountains over the last two decades. They specialize in log and craftsman-style homes, which are perfect designs for the natural landscape. Most are open floor plans, featuring lots of windows and large outdoor living areas. Mt. Tabor Lead Designer Royce Eby encourages clients to bring ideas and images that can inspire a digital drawing. Such an image is a great step to seeing your dream vacation home.
Each Mt. Tabor Builders home is built with high quality building products. Those products include Andersen Windows, Therma-Tru entry doors and GAF Shingle Systems. This all adds up to make each home air-tight and energy-efficient. Every home is engineered and built to last, because Mt. Tabor uses the highest building standards. They believe integrity in the work leads to satisfied clients. And those clients lead to great testimonials, like this one from Craig. He and his wife hired Mt. Tabor to build a home in Berkeley Springs after retiring.
"It's been an absolutely wonderful experience," said Craig, who left Northern Virginia for a mountain home with his wife. "We knew what we wanted to do when we set up a meeting with Royce (Eby) and Willie (Eby). It was a great opportunity to get to know them as special guys, as both human beings and craftsman."
Click on these links to read more Mt. Tabor testimonials and to see a gallery of the company's custom homes.
Contact Mt. Tabor Builders to Meet About Your Vacation Home in the Mountains
The Mt. Tabor Builders office is in Clear Spring, MD just west of Hagerstown. Clear Spring is a short drive to Harpers Ferry, WV; Berkeley Springs, WV;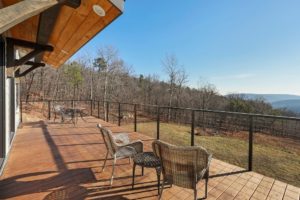 Hancock, MD; and Flintstone, MD. These are great places for your mountain home getaway.
A mountain home renovation is also an option, because the Mt. Tabor team has lots of experience renovating houses into dream homes. Their designers have a great eye for all the options available to a homeowner.
Contact the Mt. Tabor office here or call 301.766-716 to discuss your mountain home plan. The office can also be reached by emailing info@mttaborbuilders.com.