Subtle Changes to Mt. Tabor Office Make Big Difference in Style of Older Building
We at Mt. Tabor Builders recently decided to display some style of our own with the recent office renovation of our Clear Spring, MD building on Rt. 40 (Old National Pike).
We had a number of people that stopped by to talk about the work as we were completing it. One man stopped by because his wife loved the look of the stone we used on the lower portion of the front. She would drive by everyday and kept asking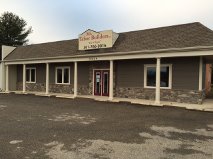 him to stop until he finally did. Another woman also drove by several times and stopped one day to get information on the color scheme.
The real lesson to be learned here is that you can add style and dimension to a stale, outdated facade very easily. Some stone accents; color changes; vinyl siding; new gutters; new windows; a different door, etc… are all easy upgrades that make a big difference in the presentation of a home, or in this case, an office.
Potential Mt. Tabor clients who are interested in adding a fresh look to the outside — or the inside — of their home, can schedule an appointment to talk with Mt. Tabor owner Willie Eby. He likes meeting with homeowners to discuss how his crew can turn an outdated property into an updated gem. We encourage people to come to that meeting with ideas, plans, pictures or anything that will help communicate their vision to the builders. To schedule an appointment, call the office or send an email. All of Mt. Tabor's contact information can be found on this website.