A major addition might be the solution for more space without moving.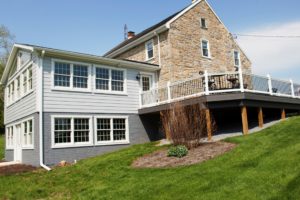 Sometimes you outgrow your home. There are only a few solutions to that problem. Most people think about moving to a new house, but the thought of packing up, moving to a new community and having a larger mortgage can be deterrents. The building of a major addition should be considered as a good option. Using some of your home's equity to hire a professional builder could solve your problems.
The professional builders and designers at Mt. Tabor Builders have been adding valuable space to Tri-state area homes for more than 20 years. They know exactly how to match a homeowner's desires with a design and structure that meets every need. These examples include additional living space built and tied into the original house and the finishing of unfinished space. Basements, garages and bonus rooms often have exceptional potential.
Building Major Additions
Do you need a home office? Do you need more living space, such as a bedroom, bathroom or comfortable family room?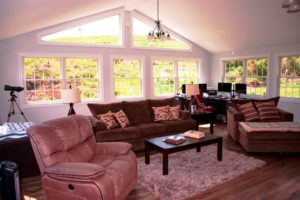 The next question is, can you see how to add that space or do you lack the vision to see a new layout? If not, don't worry and trust that a meeting with Mt. Tabor will lead to ideas and opportunities you never thought about for your current home. Willie Eby's design team will listen to the homeowner's priorities. They will ask questions and formulate ideas to match up with the client's desires. This process will go on until the homeowner is excited about the plan. It may be a simple addition for that home office need. It could be a multi-room major addition that includes bedrooms, bathrooms and/or an open living area for the larger family gatherings.
A popular trend is the "in-law suite" for extended family to move in, because they need their own space and to be close to family that can be a help. Aging parents usually need a bedroom, bathroom, kitchen and living space. These spaces can also be designed with the "aging-in-place" approach. This design allows room and the conveniences for physical limitations that may require walkers, wheel chairs, etc…for the residents.
Finishing Unfinished Spaces
It's possible your home already has the floor space, but you can't see it because of walls and a lack of imagination for what could be. But don't feel badly, as it often takes professionals — like the Mt. Tabor designers — to envision it. The taking out or moving of some walls could make the difference in having what you need under the same roof.
Mt. Tabor clients Joanna and Donnie felt the unfinished basement of their Williamsport, MD rancher was a perfect for expanding their living area. This was important to them,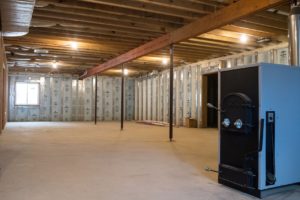 because of expecting their first child.
"We just felt like we could use the extra space," Joanna said. " We talked to them (Mt. Tabor) about putting in a family room, office and a full bath."
The project added 800 sq. ft. to the home's living space. Joanna said they brought ideas to Mt. Tabor Designer Royce Eby, who "just ran with it." She admits there were challenges to the project, pointing out that there was no rough-in for the plumbing and a need to vent for a new pellet stove. Royce and the Mt. Tabor team found solutions to those problems.
Attics and garages may also be great options for finishing off for increased living space. Mt. Tabor also builds garages for those who need more space for their vehicles or even a workshop.
Outdoor Living Spaces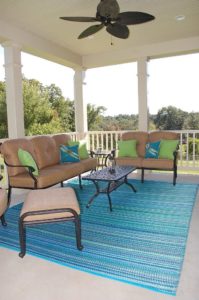 Mt. Tabor's building pros can help you plan that perfect place in your yard for nightly family gatherings or occasional parties. This type of addition to your home can quickly turn it into a retreat from the pressures of the day. Mt. Tabor can build a simple deck to a more elaborate covered area with an outdoor fireplace.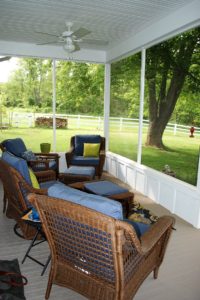 Many clients ask if spending the money on an outdoor living space — or an enclosed screen porch —  is a good investment to add to a home's value. In a word — YES! Yes, it is the patios, decks, fireplaces and accompanying landscaping that offer the biggest payoffs, according to local real estate experts..
The professionals at Mt. Tabor know exactly how to help you turn your dream outdoor living space into a reality. They will inspect your current landscape and help you get the most from your budget. This will also maximize your investment for bigger payoffs down the road, while you enjoy entertaining in this great new space now.
Contact Mt. Tabor Builders to Discuss Your Major Addition
If you would like to talk about an addition, outdoor living space, basement buildout, etc…, click here to contact Mt. Tabor online or call the Clear Spring, MD office at 301-766-7161. They also do whole-house renovations and build custom homes. Click on this link to see Mt. Tabor's gallery of construction projects.