Meet with builders now if you plan to build your dream home in 2018.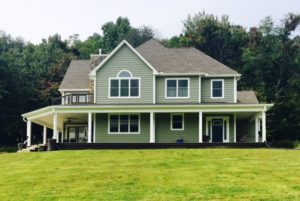 So what kind of home are you dreaming about?  Are you dreaming about a stately colonial?  Or maybe your mind's eye sees an executive-style rancher? There is always the possibility your Pinterest page entitled "Our Next House" is dominated with pictures of the wildly popular timber frame house or classic farm house. No matter which one is your favorite, if you see yourself opening that dream house front door in 2018, you need to meet and interview builders between now and the singing of the last verse of Auld Lang Syne.
The professional builders at Mt. Tabor Builders want to help you get even more excited about your future building project and get ready to dive in NOW!
"The problem is, people wait until they're excited about having their new house and then we have to tell them that 'you have to do this' and ' you have to do that' before we can really get started," says Willie Eby, owner of Clear Spring, MD-based Mt.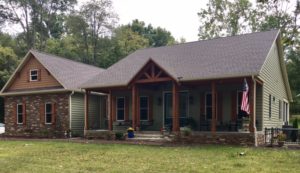 Tabor Builders, Inc. since its inception in 2001.
One of the very first things to do before such a meeting, is to collect plenty of photos and drawings of what you want included in your future home.  If you couple the images with a prioritized list of "must haves," your initial time with a builder will likely make it a productive one.
This first meeting with Mt. Tabor is usually with the company's lead estimator and draftsman Royce Eby at the table. Royce likes to talk about the ideas and dreams brought by the prospective client and how those can work together or – in some cases — can't work together. This meeting is to bring clarity to the start of the building process, and possibly bring new ideas that come from building all styles of homes in the Tri-state area over the 17 years.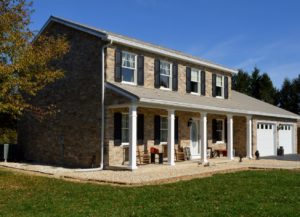 "The more research they (clients) do for their future home, the easier it is for me to help put the fine points on the preliminary plans, which are used for estimating the cost of the project," says Royce. This is the time when the number of bedrooms and baths are discussed. Other things such as materials – and niceties — in the kitchen, bathrooms and other parts of the home will all be sorted out to either meet OR set a certain budget number.
After the major details are decided upon and the house plans are complete, an estimate can be calculated. Royce says that Mt. Tabor will then provide the client a spec book, which is a 10- to 14-page document describing  all the details that have be agreed upon for the building project, or "the story of your custom home."
"Customers love this," adds Royce. "This covers all the details in the building plan from A to Z."
This can be helpful whether the client wants "the basics," or a more complex approach, as was the case with the Miles family of Clear Spring. The older couple was downsizing from the family farm to a smaller, single-level home on a small piece of the farm. The couple wanted to incorporate an old timber as part of the kitchen counter and other wood slabs as flooring. Royce was able to calculate all of this into the building plan and give an accurate timetable and budget long before the foundation was laid.
Once all of the details are agreed upon, the building process – bank approval; securing of permits; and then digging the foundation – can move forward quickly. Of course, Mother Nature does have a say in this, especially when it comes to those first few projects of a new year.
If you would like to find out more about Mt. Tabor's approach to building your dream home in 2018, contact the Clear Spring, MD office at 301-766-7161 or click here to connect through this website.