If your dream is to build a home or remodel your current home in 2020, it's time to get the wheels in motion.
We're 45 days into the new year and Mr. Groundhog didn't see his shadow, which may mean spring weather will be here sooner than expected. If that legend holds true, the ground will thaw and builders will be starting new projects earlier than planned. That means less time in the office and more time on job sites.
So, if you made a resolution to build or do a major renovation in 2020, call the Mt. Tabor office (301.766.7161) soon to meet and discuss your project. You can also contact us online.
Plan to Meet with a Builder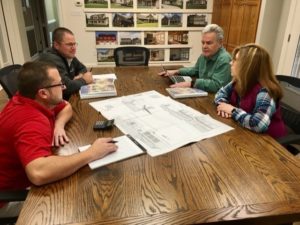 After contacting us for a meeting date, make a list of things you want in your new or remodeled home. In addition to the list, find some images online, that you can bring to the meeting. Pictures of your dream kitchen and bathrooms can go a long way in helping builders understand what you like. When searching, think about house styles (cape cod, rancher, colonial, etc…) and details, such as exterior looks and interior layouts.
"The problem is, people wait until they're excited about having their new house and then we have to tell them that 'you have to do this' and 'you have to do that' before we can really get started," says Willie Eby, Mt. Tabor owner.
Mt. Tabor Lead Designer Royce Eby advises not to get too caught up in all the information found on the internet. Bringing some ideas and lots of questions and talking points to the meeting is the best place to get started. From there, concepts can get narrowed down to a plan.
"When you search online, there is so much information and some of it is just not helpful," says Royce.
"Some of the stuff people find would just be a waste of money if we didn't advise them not to invest in them in their home," he says, speaking of certain solar applications, where the equipment could break down before any real savings was realized.
Many of these same principals apply to someone adding a major addition or doing a whole house renovation. These types of projects – to keep your location, while upgrading your living space — sometimes have more limitations. However, getting a builder's perspective can often open up ideas the homeowner could not imagine.
Eby's ability to take a homeowner's ideas and transform them into renderings makes it easy to see the finished project. This could be with opening up an enclosed space or adding an entire wing for more square footage.
The process can be a scary one for many, especially taking on such a commitment for the first time in their life.
A Happy Client Who Decided to Build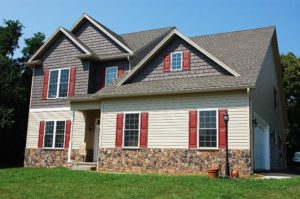 When Linda Berenstine was ready to move, she thought she knew what she wanted, which was to buy an existing home near family in Boonsboro, MD. That plan didn't work out, so she took her son's advice on buying land and building.
"I had never built a home before and I'm not someone who likes making decisions," said Linda. "I was very impressed with Willie and Royce. The more I talked with them, the more I knew I wanted them to build my house."
Today, Linda lives in her dream home, near her sisters.