This is a Series of Renovation Blogs to Upgrade Your Current Living Space. Today We Will Focus on Kitchen Renovations. A kitchen renovation can provide the homeowner joy now and be a worthwhile investment in the future.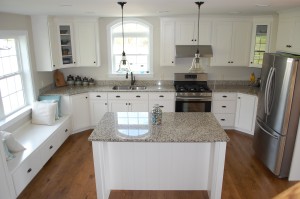 Renovating a kitchen is among the best choices a homeowner can make for several reasons. The biggest reason to do this is because the kitchen is in need of repair and you decide to spend a little extra and make it your dream kitchen. Another great reason is to add value to your home. For every dollar spent on a kitchen renovation, you can count on more than a dollar in return, if the home is sold when the kitchen still looks current.
Some of the best changes to add that value include new lighting, cabinets, counter tops, matching appliances, sink, back splash, floor coverings, paint, and windows.
Recessed lighting and hanging lights over bars and dining nooks are very popular. Shaker cabinets are among the most requested, both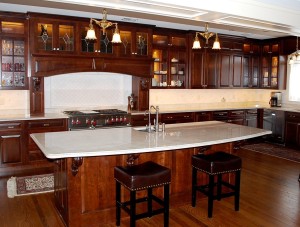 painted and natural wood. Granite counter tops are still as popular as ever, as are stainless appliances, which are now offered in black and the traditional silver. Subway tile brings an urban flair when used as a back splash and adds a nice contrast to the farmhouse sink that can be found in new homes from the mountains to the oceans.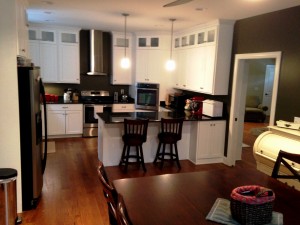 If you would like to schedule a time to meet with us to discuss all the possibilities that could be a part of your dream kitchen, contact us here.
Mt. Tabor Builders does remodeling and custom building throughout the Tri-State area, including Hagerstown, Sharpsburg, Clear Spring, Hancock, Boonsboro, Smithsburg and most of Frederick County in MD.
Some homeowners choose to remove some of the old cabinets, counter tops and floors before the professionals come in to start work on installing the new kitchen. If you choose to do so, we recommend Blue Box Rental for a rental dumpster that can make clean up much easier. Contact Tim Fields today to find out how easy and affordable it can be to rent his roll offs.