Welcome to July! It's a hot month and a hotter month to discuss upcoming building projects.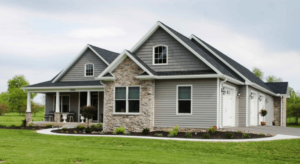 Summer is now in full swing, because July is here, along with hot weather, pool days and lots of
family activities in Hagerstown
! And while our construction schedule at Mt. Tabor Builders is pretty full now, we are meeting with those thinking of projects later this year.
Contact us
now for a meeting — in our air-conditioned office in Clear Spring — to talk about your building project.
Now, as you consider the best day in July for that appointment, consider these facts about the seventh month of the year.
July Facts
The name "July" honors the Roman dictator Julius Caesar (100 B.C.–44 B.C.). With the help of Sosigenes, Caesar developed the precursor to the Gregorian calendar we use today.
July 1 is Canada Day, a Canadian federal holiday that celebrates the creation of the Dominion of Canada in 1867. The Dominion of Canada was a union of the three separate Canadian colonies of the time—New Brunswick, Nova Scotia, and Canada (which included Quebec and Ontario). Canada remained a part of the British Empire until 1982.
July 4: Independence Day celebrates the adoption of the Declaration of Independence in 1776. Don't forget to raise the flag!
July 14: Bastille Day commemorates the storming of the Bastille and the start of the French Revolution.
Did You Know? John Adams believed that July 2 would be the day when Americans would celebrate their independence. On July 3, 1776, he wrote to his wife, Abigail: "The second day of July, 1776, will be the most memorable epocha in the history of America. I am apt to believe that it will be celebrated by succeeding generations as the great anniversary festival."
Wacky Celebrations of July
July is National Watermelon Month!
July 7–13: National Farriers Week
July 8: International Town Criers Day
July 17: World Emoji Day
Jul 20–28: National Moth Week
July 22: Spooner's Day
July 27: Take Your Houseplants for a Walk Day
July Astronomy
On July 4, Earth is at aphelion, the point in its orbit at which it is farthest from the Sun. The distance between the two orbs will be 94,513,221 miles.
July's full Moon, the Full Buck Moon, occurs on the 16th, at 5:38 P.M. EDT. Read about the Full Buck Moon or see more Moon phases.  Look up! Summer is a great time for stargazing. See our Sky Watch highlights to know what you're seeing above.
Folklore for the Summer Season
NE'ER TRUST A JULY SKY.
IF ANT HILLS ARE HIGH IN JULY, THE COMING WINTER WILL BE HARD.
AS JULY, SO NEXT JANUARY.
NO TEMPEST, GOOD JULY, LEST THE CORN LOOK RUELY.
WHATEVER JULY AND AUGUST DO NOT BOIL, SEPTEMBER CAN NOT FRY.
Misc. July Facts
July's birth flowers are the larkspur and water lily. The larkspur, especially white forms, generally indicates lightheartedness; pink, fickleness; purple, first love. The water lily symbolizes purity of heart. Find out more about July's birth flowers.
The July birthstone is the ruby, which is believed to protect its wearer from evil.
Contact Us
If you would like to meet in July to discuss your custom home or major addition, click here to contact us online or call us at our Clear Spring, MD office at 301-766-7161..