Mt. Tabor House and Lot Packages Now Available with Great Mountain Views Just West of Hagerstown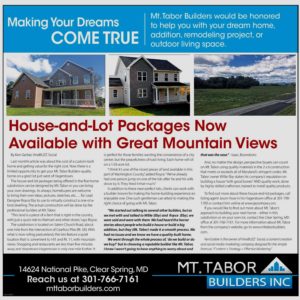 Last month's HomeSource article about Mt. Tabor was about the cost of a custom-built home and getting value for the right cost. Now there is a limited opportunity to get your Mt. Tabor Builders-quality home on a great lot just west of Hagerstown.
The house-and-lot packages being offered in the five-home subdivision can be designed by Mt. Tabor or you can bring your own drawings. As always, home buyers are welcome to bring their own ideas, pictures, sketches, etc.… for Lead Designer Royce Eby to use to virtually construct a one-of-kind dwelling. The actual construction will be done by the professional builders at Mt. Tabor.
"This land is a piece of a farm that is right in the country, with just a quick ride to Walmart and other stores," says Royce.
The subdivision is located on Salem Church Road, about one mile from the intersection of Cearfoss Pike (Rt. 58). With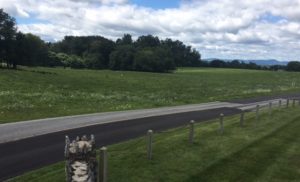 what is now rolling pastureland, the lots feature a quiet location that is convenient to I-81 and Rt. 11, with mountain views. Shopping and restaurants are less than five minutes away and downtown Hagerstown is only one mile further. It is perfect for those families wanting the convenience of a city center, but the peacefulness of rural living. Each home will sit on a 1.03-acre lot.
"I think it's one of the nicest pieces of land available in this part of Washington County," added Royce. "We've already had one person jump on one of the lots after he and his wife drove by it. They liked it that much."
In addition to these near-perfect lots, clients can work with a builder known for making the home-building experience an enjoyable one. One such gentleman can attest to making the right choice of going with Mt. Tabor.
"We started out talking to several other builders, but as we met with and talked to Willie (Eby) and Royce (Eby), we were sold and went with them. We had heard the horror stories about people who build a house or build a big addition, but they (Mt. Tabor) made it a smooth process. We had no issues and we know we have a quality-built home. We went through the whole process of, 'do we build or do we buy?' but in choosing a reputable builder like Mt. Tabor, I knew I wasn't going to have anything to worry about and that was the case."  – Isaac, Boonsboro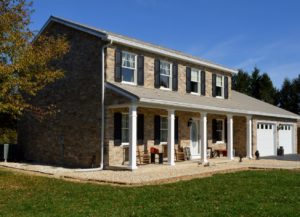 And, no matter the design, perspective buyers can count on Mt. Tabor using quality materials in the 2 x 6 construction that meets or exceeds all of Maryland's stringent codes. Mt. Tabor owner Willie Eby stakes his company's reputation on building a house "with good bones" AND quality work, done by highly-skilled craftsman, trained to install quality products.
To find out more about these house-and-lot packages, call listing agent Jason Hose in his Hagerstown office at 301-790-1700 or contact him online at www.jasonhose.com.
If you would like to find out more about Mt. Tabor's approach to building your next home – either in this subdivision or on your own lot, contact the Clear Spring, MD office at 301-766-7161.