Hot Trends Include Barn Doors, Textured Walls, Exposed Brick and MUCH More.
Hot trends are nothing new in American culture, and trends are certainly in flux every few years in the custom home and renovation industry. In decades past, you would have to go to a professional interior designer to see what was happening. But today, you simply go on Pinterest or Houzz or any of the hundreds of websites that will bring you full color pictures and drawings of the latest looks you need to know about if you are building or remodeling. Here are a few items that fall into the hot trends category.
The Tri-state area of Maryland, Pennsylvania and West Virginia has always had a distinctive, bold architectural flare that is unique to the mountains of the Mid-Atlantic area.  Many of the current building accents go well with this timeless look. These accents  include dark wood floors; shaker cabinets; "barn doors" with exposed tracks; stainless steel appliances (traditional and black); granite counter tops; farmhouse sinks in the kitchen; subway tile; exposed brick and other "textured" walls; pendant lights; heated floors;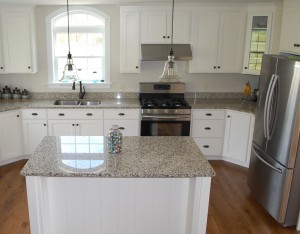 tankless water heaters; and an outdoor kitchen, to name a few.
So if you are thinking about building or remodeling, be sure to search Google Images or other online galleries to familiarize yourself and then call us at Mt. Tabor Builders to schedule a meeting with Willie and Royce. They are both familiar with the latest trends and can advise you in the next steps of the building process.
To schedule an appoint with us to talk about a custom home, addition or even an outdoor living project, just click here to contact us.