December is here, with the first day of winter and Christmas just a few weeks away.
With a little planning, December can be such a great month of fun and keeping the busyness under control. After all, there are decorations to be hung, shopping to be done, football games to watch, meetings to be scheduled, and — if there is time left — a few hours to rest. If you were paying close attention to the last sentence, you're probably wondering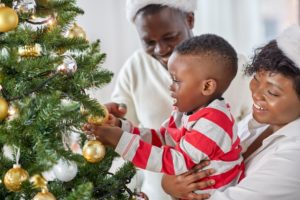 about the "meetings." Well, that's for those planning to build a dream home in the new year.
Few will argue that December isn't a busy month, but there are ways to accomplish much and enjoy the season. Here is a link to a helpful article for some assistance, because you may need help to enjoy the last month of 2021. Everyone is encouraged to "holiday" smarter rather than harder. After all, it is "the most wonderful time of the year."
Now, back to the idea of meeting with builders during this time of year. If 2022 is your year to build or do a major renovation of your current home, contact Mt. Tabor Builders now. The Mt. Tabor team of professional builders usually have a few holes in their schedule during the holiday season. They like to fill this time by discussing potential construction projects for the coming year. If this is you, collect a few pictures and make a list of "dream home" priorities, because The Mt. Tabor reps want to hear your ideas. They can then help guide you in the process, making it easy one from start to finish.
While you're planning your December schedule, be sure to take in some of the fun opportunities in the greater Hagerstown, MD area. Click on this link to pick and choose from all the great events. We hope your Christmas season is wonderful and that 2022 is a great year for you and your family!
December is a Good Month to Meet with Mt. Tabor Builders for a 2022 Building Project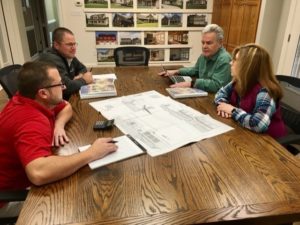 If you would like to meet to discuss your upcoming building project, contact the Mt. Tabor office here or by calling the Clear Spring, MD location at (301) 766-7161. The team builds houses, renovates homes and builds major additions throughout the Tri-state area of Maryland, West Virginia and Pennsylvania. The team works in Hagerstown, Clear Spring, Sharpsburg, Boonsboro, Mercersburg, Greencastle, Hancock, Berkeley Springs, etc.…
Click this link to see the Mt. Tabor gallery of custom homes, additions and outdoor living spaces.
Christmas Traditions
This is the perfect time of year to make memories. Some of the traditional holiday traditions are easy to name, such as:
Watching Christmas movies
Cutting down a live tree and decorating it
Driving to look at Christmas lights
Making and decorating Christmas cookies
Putting up Christmas lights
But if you want to add to this list, click on this link for some new Christmas traditions. These are memories that will last forever and can make for great photos to share with friends on social media.
Dates to Remember this Month
December is a busy month so here is a list of important dates for your calendar.
December 6 is Saint Nicholas Day. St. Nicholas, the patron saint of children, inspires traditions around the world from hunts for presents to stockings or shoes filled with sweets.
December 7 is National Pearl Harbor Remembrance Day. remembering those who died during this attack by the Japanese in Hawaii.
December 13 is St. Lucia's Day, which has long been associated with festivals of light.
December 15 is Bill of Rights Day, declared in 1941 by President Franklin D. Roosevelt.
December 21 is the Winter Solstice — the first day of winter in the Northern Hemisphere and first day of summer in the Southern Hemisphere.
December 24 is Christmas Eve, the night before Christmas, marked with many family and church gatherings.
December 26 is Boxing Day (Canada, 

UK

), named for when the rich would give gifts to the poor.
Hanukkah begins at sundown on Sunday, December 22, and ends at sundown on the 30th.
December 31 is New Years Eve, ushering out of the old year and welcoming the new one that is 2022.
Contact Mt. Tabor Builders Now About Building in 2022
Mt. Tabor's staff hopes you enjoy the entire Christmas season. If you have thoughts of building a custom home or adding a major addition in 2022, plan to meet with a Mt. Tabor rep soon. To schedule a meeting, click here or call the Clear Spring office at 301.766.7161.
Click here to see the Mt. Tabor portfolio of building projects.