We hope you have a safe and happy Thanksgiving!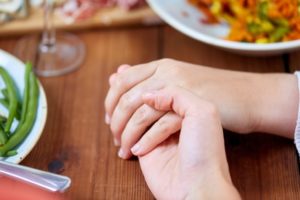 We at Mt. Tabor Builders in Clear Spring, MD truly hope that on Thursday, you stop and reflect on all your blessings, even as we wrap up one of the toughest years ever. It's easy to reflect on all the negatives of 2020, but if you have been blessed with family, friends, children, faith, a job, a home and/or anything that makes life a little better, take time to reflect on those blessings. Our intention is to do the same, going into the Christmas season with a grateful attitude.
"Thanksgiving is more than turkey and football. It's a time to get together with family and relax. It is also a time to sit back and thank God for the many blessings, as a family, as a business and citizens of this country. I hope we can all be more thankful in the next year,  and not just think about our blessings at Thanksgiving."  — Willie Eby, Mt. Tabor Builders, Inc.
How to Plan a Thanksgiving Gathering
Are you hosting a Thanksgiving gathering at your home in 2020? If so, please remember to be safe as it relates to spreading germs. Second, put a solid plan, with a to-do list, together so you can have fewer worries and enjoy the holiday. This article offers a cheat sheet for your Thanksgiving gathering. It covers everything from guests with dietary restrictions to selecting a turkey to serving dessert.
We hope your meal tastes great, your football team wins and you make timeless memories.
The History of Thanksgiving in America
The first Thanksgiving between the Pilgrims and Wampanoag Indians happened in the fall of 1621, about 10 months after the Mayflower landed in Plymouth, MA. Only 44 of the 102 original voyagers were alive due to hardships of the first year. The celebration was for the great harvest, which happened because the Native-American Indians taught them about growing local crops. The Pilgrims were appreciated, because they had helped the Wampanoags fight back a rival tribe that attacked earlier in the year.
Thankful for our Clients
"Since the beginning, Willie and the team at Mt. Tabor have been a pleasure to work with and have made our building experience a positive one.  That's not to say everything went as planned, I doubt it ever does, but the folks at Mt. Tabor had solutions for any possible issue.  In the end we have an attractive, quality home that should meet

our needs for years to come." – John, Keedysville
Contact Us to Meet During the Holiday Season
To schedule a meeting to talk about your building project, contact us here or by calling our Clear Spring, MD office at 301.766.7161. You can also email our office staff at info@mttaborbuilders.com. Click on this link to see a gallery of homes we've built throughout the Tri-state area of Maryland, Pennsylvania and West Virginia.