The building experts at Mt. Tabor continue to wrap up construction projects as 2023 comes to a close.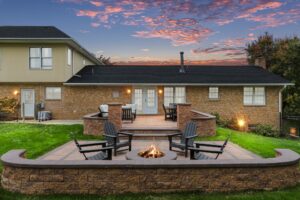 Outdoor living spaces are very popular these days and outdoor living spaces are the features of Mt. Tabor's recently completed projects. An executive style house with a million-dollar view has a sunroom that leads to a nice-sized deck. Another project just completed is a two-level patio that features a firepit, Adirondack chairs and the perfect ambiance for every fall evening. That patio is pictured here to the right. The beautiful sky is not part of the Mt. Tabor contract.
Outdoor Living Spaces in 2024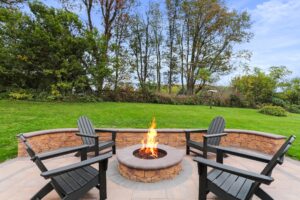 The 2023 fall season has been a beautiful one so far in Western Maryland. This season probably has a month or 45 days left that will offer ideal temperatures for enjoying outdoor living spaces. If you have one, you've probably been grateful. If you don't, you've probably been wishing for one. Meet with a Mt. Tabor representative soon if you want that wish to become a reality in 2024. The Mt. Tabor design and construction experts can start planning for your sunroom, deck, gazebo, patio or screened porch now and have it completed before your 2024 regrets set in this time next year.
New Custom Home with Views and Beautiful Interior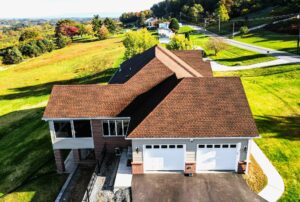 The latest custom home completed by Mt. Tabor Builders has great views off the back deck — mentioned above — and great views inside the home. The pictures below show the beautifully-appointed kitchen with white cabinets, center-island bar and stainless appliances, including a built-in microwave. The main bathroom is equally impressive, with similar cabinetry and countertops.
A stone fireplace makes the main living area complete. It should get plenty of use as temperatures drop in the Tri-state area. And, as mentioned above, if the family gets too warm from the heat of the fireplace, the sunroom and deck are the perfect places to cool off while looking out over the majestic valley below.