Clear Spring, MD resident admits she had some "crazy ideas" when she started dreaming about her new home.
Burma Miles knew she wanted a unique, craftsman-style home when she started searching for builders in 2015. She and her husband were in a unique situation and wanted to find a builder who would listen to all the things that were going through her mind. She needed that builder to not only listen but also not put up a stop sign with every "out-of-the-box"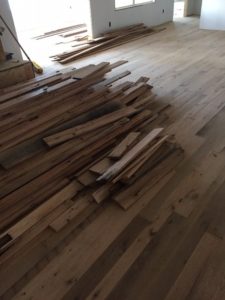 thought. She found that builder right down the street in Willie Eby, owner of Mt. Tabor Builders.
"Willie, Royce (Eby) and all the others at Mt. Tabor are so easy to work with and are just so down to earth," said Miles, owner of Road Runner Services, a local transportation company. "I came in with all these crazy ideas and there was never a 'no.' "
Miles and her husband, Dale, had decided to downsize, selling the family farm and building a home on the edge of the land. They wanted a home they could stay in as they got older and one that would be better suited for the needs surrounding Dale's Parkinson's diagnosis. Thankfully, the builders at Mt. Tabor are familiar with the "aging-in-place" trend. This trend allows a family to build in a way that will accommodate progressive limitations that come with aging and/or the effects of a debilitating disease.
On top of meeting those needs, the crazy ideas that Burma had included using barn doors and reclaimed wood from buildings on the farm. She wanted to take elements of the family physical history and incorporate them into the new home.
"I looked at this pile of wood and I thought, this is never going to look like a floor," she said, admitting the members of the Mt. Tabor team kept reassuring her that they would try hard to make it all work. She said they did and even found an old 18-ft length of rough wood — stored in an upper floor of one of the old buildings —  that was able to be finished into a counter top.
Another major part of the home is the spacious sun room that looks out over the farm. She said the couple hopes to spend many hours enjoying th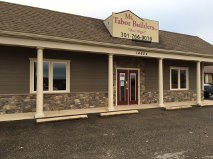 e comfort of being indoors, while looking at the natural beauty in plain site through the room's large windows.
If you would like to meet with the Mt. Tabor team and discuss your ideas — crazy or otherwise — you can contact us here or call 301-766-7161 to reach our Clear Spring, MD office.