A local couple recently built a cape cod in Williamsport, MD, and actually enjoyed the building process!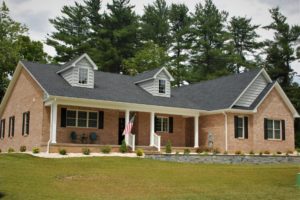 Lee and Ann Marie knew they wanted to build a classic cape cod home on a lot in a Williamsport, MD neighborhood. But like most couples wanting to build, they weren't sure which builder would be best. Lee's time in the local real estate market led him to several builders with good reputations. Mt. Tabor soon rose to the top and the papers were signed. Below is their testimonial about the experience.
"From the first meeting, we had the idea, but they (Willie and Royce Eby of Mt. Tabor Builders) guided us into exactly what we wanted," says Ann Marie. "They took what we had and made some suggestions and adapted some things that enveloped our ideas."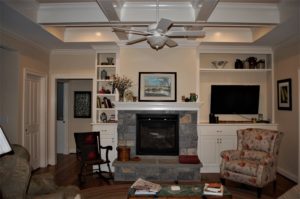 The couple agreed that beyond the great planning sessions, the day-to-day experience of building a home with Mt. Tabor's job foreman, made it exceptional.
"Shawn was always available to meet and talk about the tweaks being made to the project," said Ann Marie.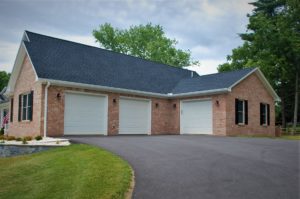 The couple was proud of a number of the details they brought to the project. Lee wanted a three-car garage and worked with Designer Royce Eby on how the layout would work as a side-entry design.
Ann Marie loves the details like the coffered ceiling in the living room and the red, attached island with built-in trash can compartment. She had a specific red in mind and praised the Mt. Tabor team for tracking down and making sure it looked exactly how she envisioned.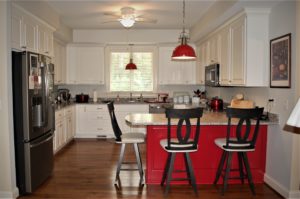 "All around from start to finish, it was an excellent experience, " said Ann Marie.
The Aging-in-Place Feature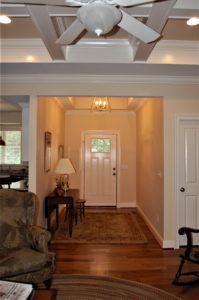 The home was also designed with many aging-in-place features. Open hallways, larger doorways, etc… will make it easier for the couple to stay in their new home as they get older and have physical challenges. Such features allow for the use of "mobility devices," because walker and wheelchairs need more space.
Soon after the couple decided on Mt. Tabor, an old neighbor –who had her built by Mt. Tabor — told Ann Marie, "they're the best!"
Ann Marie has no argument for her former neighbor, because Mt. Tabor "built it right."