Boonsboro family members selected Mt. Tabor to build their custom brick Colonial on their property and ended up happy with their decision.
We love it when our building professionals come through for those that put their trust in Mt. Tabor Builders. "Coming
through" means taking a potential client's idea and turning that into a smooth building process and ultimately a custom home the homeowner loves. The following is a testimonial of one of those satisfied clients.
"We can proudly say that after meeting with several contractors, we chose Mt. Tabor Builders to build our home. If we were to do it again we wouldn't even consider another contractor. They are a true custom home builder and a class act.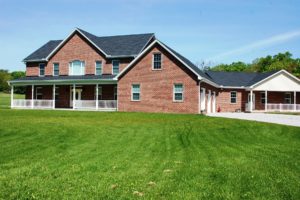 We went to Willie (Eby) and Royce (Eby) with a rough design and ideas and they were able to finish our house exactly how we wanted it. Their subcontractors did excellent work, kept the job site clean, and were easy to work with.
"The owner, Willie, is very transparent about the cost of the project and what you can expect. Mt. Tabor stands by their business name, they use excellent products
and refuse to cut corners. There are certainly other builders out there that are cheaper and faster, but the workmanship of Mt. Tabor will last and you will not regret it.
"As with any process, nothing is absolutely perfect and I'm sure those interested in building would like to know what could be improved. Overall we are extremely pleased with our new home."
Chris and Kelly Mullendore, Boonsboro, MD