April is National Month of Hope and our world is definitely in need of hope.
While most of the planet is clamped down due to corona virus (COVID-19), there is reason to hope. Warmer temperatures and extra time with family are among the better outcomes from the havoc. We've also heard great stories of people helping people during this time. Many healthcare workers are making sacrifices to take care of those infected.
Even inside the health crisis, there is some good news. Most people recover from the virus. Children often have little or no symptoms from it. The number of new cases from where it started is declining. Countries are working together on a common goal of limiting the spread and finding a cure. And, we should find hope in that the global community should be better prepared for future outbreaks.
Other stories of hope include:
Miraculous stories of recovery by elderly patients.
Many celebrities and professional athletes donating large sums of money to institutions and essential workers in need.
Chefs teaching free, online cooking classes.
Air pollution has plummeted in cities with high numbers of quarantined individuals.
Venice, Italy's canal waters are clear.
Artists giving free, online concerts.
The early release of films to watch through streaming services.
People purchasing local goods and services to help community-based business owners.
People making masks due to the shortage of such essential equipment.
We Have Hope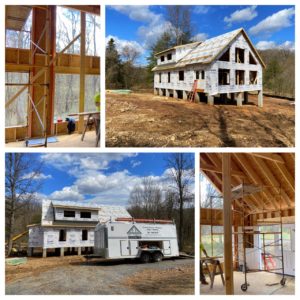 We at Mt. Tabor Builders in Clear Spring, MD, also have hope. Our hope that once this global pandemic is over, people will be more kind toward each other. We hope families will be closer and people will enjoy going back to work and serving alongside their coworkers.
We also hope to get to serve them as they return to everyday life.
Mt. Tabor Builders' Building Services

We build houses, renovate houses, and build major additions throughout the Tri-state area of Maryland, West Virginia and Pennsylvania. We work in Hagerstown, Clear Spring, Sharpsburg, Boonsboro, Mercersburg, Greencastle, Berkeley Springs, etc… If you would like to meet to discuss your upcoming project,  contact us here or call our Clear Spring, MD office at (301) 766-7161.
Our sister company — MTB Windows and More —  specializes in all types of home improvement work and home repair.