Another Mt. Tabor mountain home is the perfect Paw Paw, WV retreat.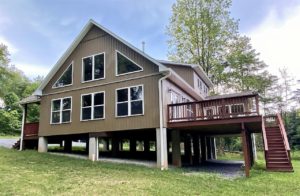 Mountain homes in the Tri-state area have become all the rage again and Mt. Tabor continues to meet the need. The professional builders recently completed another weekend getaway in Paw Paw, WV. The sleepy town is located half an hour from Berkeley Springs, WV. It's a great place to get away from all the noise of the work week. Trees, fields and streams are the perfect antidote for the stress-filled cities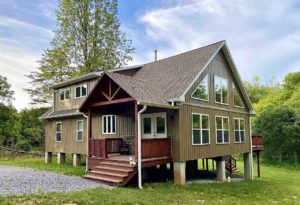 less than two hours away.
Why Build a Mountain Home?
The main answer to that question is because it's a short drive from the Washington/Baltimore/Northern Virginia area to the peaceful Allegheny Mountains. It's easy for urbanites to get in the car and soon be "lost" in the hills. The location, proximity and cost of real estate is attractive to those wanting a change of pace.
"There are a lot of people from the city who want a place to vacation to or retire to," says Willie Eby, owner of Mt. Tabor Builders in Clear Spring, MD. "They contact us about designing and building a home in the mountains, usually around the Berkeley Springs area or just north of Hancock in Maryland. It's a beautiful area and seems further away from the city, than it actually is."
Mountain Home Styles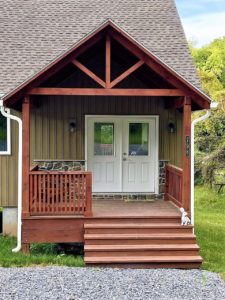 Mt. Tabor's building experts have constructed many homes over the last two decades. They specialize in log and craftsman-style homes, which fit perfectly in the mountain setting. Most are open floor plans, featuring lots of windows and large outdoor living areas. Lead Designer Royce Eby encourages clients to bring ideas, dreams and images, so he can help create exactly what the client envisions.
Each Mt. Tabor home is built with high quality building products, such as Andersen Windows, Therma-Tru entry doors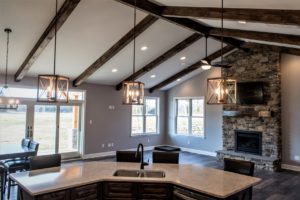 and GAF Shingle Systems. This all adds up to make each home energy-efficient. Every home is engineered and built to last. And, each home is built to the highest building standards, because integrity in the work leads to great satisfied  clients and great testimonials.
Here is one from Craig, who recently hired Mt. Tabor to build his Berkeley Springs custom home, after retiring and moving from Northern Virginia.
"It's been an absolutely wonderful experience," said Craig, who left Northern Virginia for a mountain home with his wife. "We knew what we wanted to do when we set up a meeting with Royce (Eby) and Willie (Eby). It was a great opportunity to get to know them as special guys, as both human beings and craftsman."
Click on these links to read more building testimonials and to see a gallery of Mt. Tabor custom homes.
Contact Mt. Tabor Builders to Meet About a Mountain Home
The Mt. Tabor Builders office is in Clear Spring, just west of Hagerstown, MD. Clear Spring is a short drive to Harpers Ferry, WV; Berkeley Springs, WV; Hancock, MD; and Flintstone, MD.
Contact the Mt. Tabor office here or call 301.766-716 to discuss your mountain home plan.