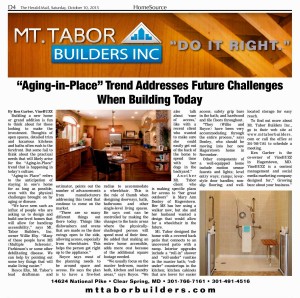 Building a new home or grand addition is fun to think about for those looking to make the investment. Thoughts of open spaces, detailed trim and luxurious kitchens and baths often rush to the forefront. But some fail to think about the practical needs that will likely arise for the "Aging-in-Place" building approach trend that is happening in today's culture.
"Aging-in Place" refers to the anticipation of staying in one's home for as long as possible, even with the physical challenges brought on by aging or disease.
"We have seen such an influx of people who are asking us to design and build one-level homes that will allow for handicap accessibility," says Mt. Tabor Builders, Inc. owner Willie Eby. "Many of these people have MS (Multiple Sclerosis), Parkinson's or some other debilitating disease. We can help by pointing out some key things that will make living easier."
Royce Eby, Mt. Tabor's lead draftsman and estimator, points out the number of advancements from manufacturers addressing this trend that continue to come on the market.
"There are so many different things out there today. Things like dishwashers and ovens that are made so the door swings open to the side, allowing access, especially from wheelchairs. This helps the person get right up to the appliance."
Royce says most of the planning needs to be around space and access. He says the plan is to have a five-foot radius to accommodate a wheelchair. This is the rule of thumb when designing doorways, halls, bathrooms and other single-level living spaces. He says cost can be controlled by making the changes to the basic areas where the physically-challenged person will spend most of their time. He added that making an entire home accessible, adds more cost because of the additional square footage needed.
"We usually focus on the master bedroom, master bath, kitchen and laundry areas," says Royce. "We also talk about 'ease of access,' like with a recent client who wanted to make sure she could easily get out of the back of the home to spend time with her dogs in the backyard."
Another Mt. Tabor client who is making specific plans for access to "her great outdoors"  is Mary Ann Donley of Hagerstown. Her MS has her using a walker now, but she and her husband wanted a design that would allow for a wheelchair in the future.
Mt. Tabor designed the home with a covered back patio that connects to an uncovered patio with a ramp. Interior upgrades include a "roll-in" shower and  "roll-under" vanities in the master bath; "roll-under" countertops in the kitchen; kitchen cabinets that are lower for easier access; safety grip bars in the bath; and hardwood and tile floors throughout.
"They (Willie and Royce) have been very accommodating through the entire process," says Donley, who should be moving into her new Hagerstown home in November.
Other components of a well-equipped home include motion sensor faucets and lights; level entry ways; ramps; lever-style door handles; non-slip flooring; and well-located storage for easy reach.