"How much will it cost me to build a custom home?" is a frequent question asked of custom home contractors. Most will likely tell you they wish it was as easy as spitting out a number and then determining whether the person asking is really interested in their services or not. However, that question is just the start of the conversation that leads to many questions flowing from the contractor to the perspective homeowner.
"How many square feet do you want? Do you want a single- or multi-level home? Do you want granite in the kitchen? Do you want hardwood floors or carpeting in most of the house?"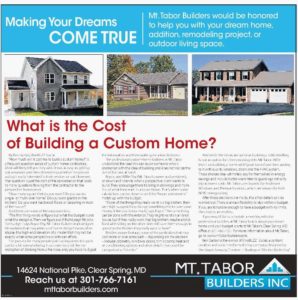 And these are some of the easy questions.
"The first thing we do is figure out what the budget is and what the design is. Then we figure out if that design fits into the budget," says Royce Eby, Mt. Tabor Builders lead designer. He explains that magazines and "home design" shows often display the high-end elevation of a model that may not be exactly what some perspective clients can afford.
The process for many people just starting down this path can be a bit overwhelming. It can even be a bit like the metaphor of drinking from a fire hose, only you have to digest the information and then make quite a few decisions.
The professional custom-home builders at Mt. Tabor understand the load this can be on someone who is enamored with the idea of building and does not realize the size of the task at hand.
Royce, and Willie Eby (Mt. Tabor's owner and president), sit down and listen to what a perspective client wants to build. They encourage them to bring in drawings and make lists of what they want in a future home. That's when some calculations can be done to see if the "hopes and dreams" match up with the budget.
"If one of the things they really want is a big kitchen, then we might suggest they change something else to save some money, if the cost is too much," says Royce. "The same thing can be done with the exterior. They might want an all-brick house, but if they really want that big kitchen, maybe a brick front with siding on the other sides will save them enough to spend on the kitchen they really want to have."
Besides square footage, some of the particulars that may cost more or save some cash – depending on the decision – include cabinetry, windows, doors, trim accents, heat and air conditioning options and other details that could be categorized as "niceties."
And while the extras are optional, building a solid dwelling is not an option for clients working with Mt. Tabor. Willie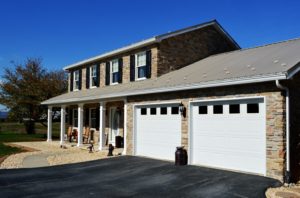 insists on building a home with "good bones" and then adding to it with quality windows, doors and the HVAC system. These choices may ultimately pay for themselves in energy savings and include better warranties to guard against early replacement costs. Mt. Tabor uses brands like Andersen Windows and Therma-Tru doors, which are known for their NFRC energy rating.
After these decisions are made, the other details can be worked out. There is always flexibility to stay within a budget. If you are fortunate enough to have a budget with no limits, the choices are endless.
If you would like to schedule a meeting with the professional builders at Mt. Tabor to talk about your dream home and your budget, contact Mt. Tabor's Clear Spring, MD office at 301-766-7161.