Mt. Tabor's home improvement specialists are experts in replacing roofing.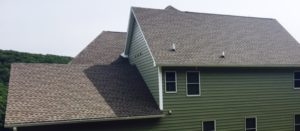 GAF Shingles installed by the pros at Mt. Tabor Builders in Clear Spring, MD use top quality roofing materials, because they know a new roof is usually a necessity, not a luxury.
Our professional installers help to alleviate the stress of making sure your home is porotcted by ensuring that you receive a high-quality, long-lasting final product. After all, if you need a new roof, install one that will last through storms, wind, stand up to the sun, and that will last for as long as possible.
Our installers use the GAF Shingle System, because it is one of the best on the market. The system includes a high-quality underlayment for added protection between the wood sheathing and shingles. It also is a 6-nail shingle system. This 6-nail pattern allows Mt. Tabor and GAF to offer a lifetime warranty to withstand winds of up to 130 miles per hour.
No More Ugly Roof Stains
Another great advantage of the GAF Shingle System is that it is fungus-resistant. Not all shingle brands are made to be fungus-resistant, and the black streaks often seen on rooftops around the Hagerstown, MD area will not appear on the GAF Shingles.  This discoloration, usually algae, can penetrate inferior shingles and cause decay of the product from within. And while algae can still form on tree sap and other natural elements that fall on a roof, GAF manufacturing techniques ensures that it stays on the surface of the shingle. This allows the algae and other dirt to be pressure washed away – without damage to the roof itself.

Highest-Quality Roofing Products GAF Shingle System installed by Mt Tabor Builders of Clear Spring, MD
The GAF Shingles used by Mt. Tabor Builders come from the relatively-local GAF plant in Myerstown, PA, GAF's most technically up-to-date plant. This ensures the highest-quality product that is made by the company is the one going on your home's roof.
More details about GAF Shingle products can be found on the company's website. You can get there by clicking https://www.gaf.com.
Expert Installation
The professional roofers at Mt. Tabor Builders are specifically trained on the proper installation of the GAF Shingle System. We make sure each employee has the proper education offered by the manufacturer of the products we sell. After all, what better trainer could there be than those who represent the line of products being sold?
Our Clients Say...
From Linda Domer
I love my new kitchen and the work you have done. The more I use it, now that I'm settled in, the more I really like it, as does everyone who has come up to see it. Thanks again.