Professional Architectural Design by Mt. Tabor
If You Can Dream it, Mt. Tabor will Build it Right!
Mt. Tabor Builders offers a complete architectural design service.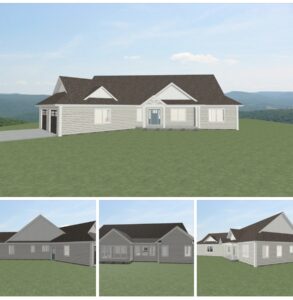 Project design is the first major step in the building process, whether it's new construction or complete renovation. This step ultimately leads to the success of every project. The Mt. Tabor designer will take all of the client's ideas, pictures, notes, and drawings and transform them into the architectural design plans that become the perfect custom-built house, addition, outdoor living space, or whatever can be dreamed up.
If fact, this meeting is much better and productive if the client first visits websites — Pinterest, Houzz and Google Images – to get ideas that narrow the focus of the project. And, since "a picture is worth a thousand words," it brings more clarity to the discussion, which allows the actual building process to start more quickly.
Ideas into Reality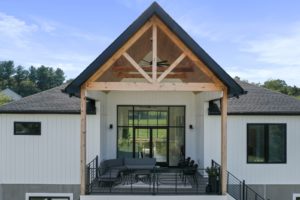 Once the ideas are converted to drawings, the permitting process can begin. After that the permitting process is complete, the home is built within a few months. And, depending on the size and complexity of the building project, the keys are soon handed over. We know this is over-simplifying all that goes into a building project. However, the Mt. Tabor professionals work hard to make it as simple as possible.
Click on this link to see our gallery of homes. These are a few examples of ideas that we helped turn into dream homes for our clients.
Let's Design and Build Your Dream Home Together
Lead designer Royce Eby and Willie Eby (Mt. Tabor founder and president) look forward to meeting and brainstorming with clients to start designing a custom dream into a custom dream home.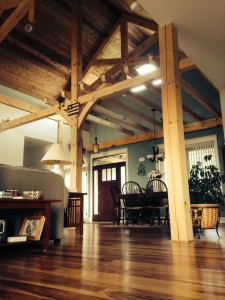 The professional designers and builders at Mt Tabor have designed many variations of traditional American homes, log houses, and timber frame homes which give the rugged feel found in log homes, but with the ability to meet today's more-stringent energy codes.
To find out more about our in-house architectural design services, Contact Us today to schedule a meeting to discuss your dream home!
In addition to architectural design, the expert builders at Mt. Tabor in Clear Spring, MD also builds major additions and outdoor living spaces. We also design and finish bonus rooms, basements and create in-law suites.
Mt. Tabor Builders is a custom builder of mountain homes in Berkeley Springs, WV and the surrounding area. Read our blog on mountain homes and see our gallery of images. We also do major renovations, such as creating home offices, in-law suites, etc…
Mt. Tabor Designs and Builds Vacation Homes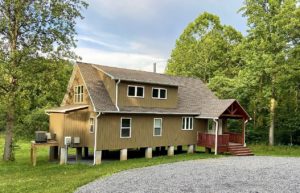 Mt. Tabor specializes in building custom homes and second homes — or mountain homes — which you can read about in this blog post. We also do major renovations, such as creating home offices, in-law suites, etc…Our building experts can also create more space in your current house, with a major addition.
Click here to read our our blog posts about our work (mountain home blog post). You can click here to see our Portfolio of construction projects for ideas for your future home. We display pictures of our homes in our Clear Spring, MD office. You're welcome to stop by during normal business, Monday – Thursday. Friday is by appointment only.
Mt. Tabor Builders Handles All Types of Home Improvement Projects
Home improvement projects are what the Mt. Tabor building professionals do when not building custom homes. They are the experts at remodeling kitchens and bathrooms, or any other part of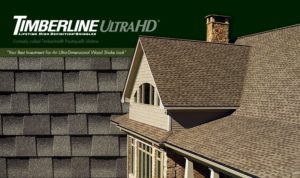 your home. They are also specialize in building additions and, finishing basements and bonus rooms. You can trust their expertise in installing replacement windows, exterior doors, new siding and new roofing. A new roof installed by Mt. Tabor's professionals will be done correctly, because they believe in doing it right for the best value for the customer. They also believe in using superior products that they trust to last. Click on this link to read details about their approach to a re-roofing project.
Home improvements are not just under the main roof. Decks, patio and luxury outdoor living spaces are well within their capability. Garages — attached and free-standing — also provide additional space and add value to a property. Other projects include finishing rough basements into living space and outbuildings, such as greenhouses.
Contact us here to discuss your home improvement project.
Our Clients Say...
From Glenn and Marcy Kelly
found Willie to be someone who is easy to work with. Throughout the process, Willie offered many ideas on how to improve our building plans.
From the first meeting, Willie's calm, professional demeanor established him as someone with whom we wanted to work. Willie knows how to build a home and how to manage contractors, as well as how to treat his clients with respect and kindness. Our calls and meetings with Willie were so positive that we were sorry to see the project end.
Our new home is beautiful, well crafted, and solidly built. Willie's employees are careful and considerate. Over and over, Willie's subcontractors told us how they were taking care to build our home as if it were their own. Mike Stoner, one of Willie's associates and a true craftsman of the highest caliber, did outstanding woodworking in our home, We are truly blessed to have had the opportunity to work with Willie Eby and his associates from Mt. Tabor Builders. We would recommend them to anyone who is considering any size building project.