Starting a Great Building Project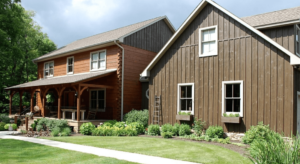 We love meeting with potential clients and discuss your hopes, plans and dreams that lead to the construction of a great project. We truly enjoy the brainstorming of the plans that we can help turn into a dream home. Many of our meetings center around pictures, drawings and the discussion of visions that potential clients have for their new home.
As we talk, we will make sure every detail is accounted for in the process of building your custom home or addition. Our hope is that the conversation will lead to the end result — a beautiful, well-built custom home or addition. We want it to be a place to make memories, since many family moments will happen there.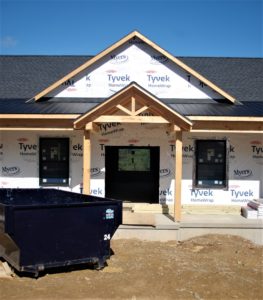 In the nearly two decades of building custom homes, Mt. Tabor's expert builders have built most of the styles regularly seen throughout the Quad-state area of Maryland, Virginia, West Virginia and Pennsylvania. When we first began, we built our reputation on building log homes. Since that time, timber frame homes have become more the sought after style, when it comes to the more rugged look. But we also pride ourselves on building stately colonials and executive ranch homes. See our portfolio on this site to see the many example of homes we have constructed for clients.

Visit Our Office and Our Online Gallery
We display pictures of our homes in our Clear Spring office. You're welcome to stop by during normal business, Monday – Thursday. Friday is by appointment only. You can click here to see our Portfolio of construction projects for ideas for your future home.
Mt. Tabor Builders is a custom builder of mountain homes in Berkeley Springs, WV and the surrounding area. Read our blog on mountain homes and see our gallery of images.
Home Improvement Specialists
The expert builders at Mt. Tabor in Clear Spring, MD design and build major additions and outdoor living spaces. We also design and finish bonus rooms, basements and create in-law suites. If you are needing home improvements like siding, roofs, exterior doors or replacement windows, contact our sister company MTB Windows and More at this link.
Our Clients Say...
From Glenn and Marcy Kelly
found Willie to be someone who is easy to work with. Throughout the process, Willie offered many ideas on how to improve our building plans.
From the first meeting, Willie's calm, professional demeanor established him as someone with whom we wanted to work. Willie knows how to build a home and how to manage contractors, as well as how to treat his clients with respect and kindness. Our calls and meetings with Willie were so positive that we were sorry to see the project end.
Our new home is beautiful, well crafted, and solidly built. Willie's employees are careful and considerate. Over and over, Willie's subcontractors told us how they were taking care to build our home as if it were their own. Mike Stoner, one of Willie's associates and a true craftsman of the highest caliber, did outstanding woodworking in our home, We are truly blessed to have had the opportunity to work with Willie Eby and his associates from Mt. Tabor Builders. We would recommend them to anyone who is considering any size building project.